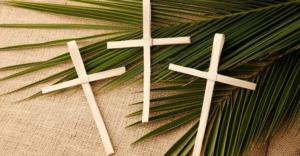 April 5, 2020
Palm Sunday Once again, I (Maureen) see a Great Flame that I have come to know as the Heart of God the Father. He says: "It is important to understand that the Remnant Church is based upon the Truths of the Faith. There is never a departure from these Truths based upon opinions or more popular beliefs. The tenets of Faith remain unchanged and do not vary to please human desires or convenience. Such thinking is a minefield waiting to explode into apostasy and heresy."

"Do not believe that title or position are exempt from error. Satan's attacks know no boundaries. The greatest attacks are levied against those who have the most influence. Embrace the Traditions of Faith."

Read 2 Thessalonians 2:13-15+

But we are bound to give thanks to God always for you, brethren beloved by the Lord, because God chose you from the beginning to be saved, through sanctification by the Spirit and belief in the truth. To this he called you through our gospel, so that you may obtain the glory of our Lord Jesus Christ. So then, brethren, stand firm and hold to the traditions which you were taught by us, either by word of mouth or by letter.
+ Scripture verses asked to be read by God the Father.

 

5 de Abril del 2020
Nuevamente veo una gran llama que he llegado a reconocer como el Corazón de Dios Padre. Dice: "Es importante comprender que la Iglesia Remanente se basa en las verdades de la fe. Nunca se desvía de estas verdades basándose en opiniones o creencias más populares. Los principios de la fe permanecen inalterables y no cambian para agradar conveniencias o deseos humanos. Semejante pensamiento es un campo minado a la espera de que explote en la apostasía y la herejía."

"No crean que el título o la posición están exentos de errores. Los ataques de Satanás no tienen límites. Los ataques más grandes se imponen contra quienes tienen más influencia. Abracen las tradiciones de la fe."

Lean 2ª Tesalonicenses 2:13-15




Nosotros, por nuestra parte, siempre debemos dar gracias a Dios, a causa de ustedes, hermanos amados por el Señor. En efecto, Dios los eligió desde el principio para que alcanzaran la salvación mediante la acción santificadora del Espíritu y la fe en la verdad. Él los llamó, por medio de nuestro Evangelio, para que posean la gloria de nuestro Señor Jesucristo. Por lo tanto, hermanos, manténganse firmes y conserven fielmente las tradiciones que aprendieron de nosotros, sea oralmente o por carta.
RE: Latest messages are at Holy Love Ministries and Ministerios del Amor Santo