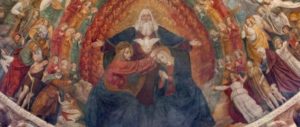 April 29, 2021
Once again, I (Maureen) see a Great Flame that I have come to know as the Heart of God the Father. He says: "Children, the majority of the population is unbelievers in this supernatural apparition.* This is how Satan works – always appealing to the earthbound man. The miraculous seems out of the question to the average soul. Such a soul depends on himself and his own efforts apart from any intercession from Heaven. Worldly efforts can only be moderately successful and far from perfect. It is by My Power circumstances are changed and grace overcomes human effort. This is true in physical healings, changes in nature, reconciliation in human relationships and every inspiration towards a better, more secure life."

"The soul who loves Me can most easily trust Me. In any present moment, the trusting soul awaits the grace I send him which resolves situations. Perhaps the most important present-moment grace is Holy Acceptance of My Will. Each day pray for this grace-inspired acceptance, which is a necessity of the peaceful heart."

Read Ephesians 2:8-10+




For by grace you have been saved through faith; and this is not your own doing, it is the gift of God – not because of works, lest any man should boast. For we are his workmanship, created in Christ Jesus for good works, which God prepared beforehand, that we should walk in them.

+ Scripture verses asked to be read by God the Father.

 

29 de Abril del 2021
Nuevamente veo una gran llama que he llegado a reconocer como el Corazón de Dios Padre. Dice: "Hijos, la mayoría de la población no cree en esta aparición sobrenatural. Así es como actúa Satanás; apelando siempre al hombre terrenal. Para el promedio de las almas, lo milagroso parece inimaginable. Las almas así dependen de sí mismas y de sus propios esfuerzos, alejadas de cualquier intervención del Cielo. Los esfuerzos mundanos solo pueden ser ligeramente exitosos y están lejos de ser perfectos. Es por Mi poder que las circunstancias cambian y la gracia supera el esfuerzo humano. Esto es cierto en las sanaciones físicas, en los cambios de la naturaleza, en la reconciliación de las relaciones humanas y en cada inspiración para una vida mejor y más segura."

"El alma que me ama es la que más fácilmente puede confiar en Mí. El alma que confía espera en todo momento presente la gracia que Yo envío, la cual resuelve situaciones. Tal vez la gracia del momento presente más importante es la santa aceptación de Mi Voluntad. Recen todos los días pidiendo esta aceptación inspirada por la gracia, la cual es una necesidad del corazón sereno."

Lean Efesios 2:8-10




Porque ustedes han sido salvados por su gracia, mediante la fe. Esto no proviene de ustedes, sino que es un don de Dios; y no es el resultado de las obras, para que nadie se gloríe. Nosotros somos creación suya: fuimos creados en Cristo Jesús, a fin de realizar aquellas buenas obras, que Dios preparó de antemano para que las practicáramos.
RE: Latest messages are at Holy Love Ministries (www.holylove.org) and Ministerios del Amor Santo (www.amorsanto.com)