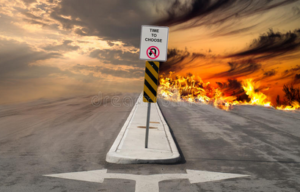 July 18, 2021
Once again, I (Maureen) see a Great Flame that I have come to know as the Heart of God the Father. He says: "Even the smallest sin creates space between the soul and My Paternal Heart. The holiest person may not be so holy after all, if he has spiritual pride in his heart. Never be tricked by Satan into thinking you are a spiritual leader above others – that you have all the answers. Perhaps My Providence places you in the situation of advising or informing others of the right path to choose. This is My doing – not your own. In such a situation, any good that you do comes from My Holy Spirit and not from human ingenuity.""Be a warrior of Truth, but know in your heart that Truth comes from the Spirit of Truth – not from your own worthiness. Spiritual pride is the tool Satan uses to destroy My relationship with many who enjoy their holiness as from themselves and not as tools of My Providence."

Read Titus 1:1-3+




Paul, a servant of God and an apostle of Jesus Christ, to further the faith of God's elect and their knowledge of the truth which accords with godliness, in hope of eternal life which God, who never lies, promised ages ago and at the proper time manifested in his word through the preaching with which I have been entrusted by command of God our Savior;

+ Scripture verses asked to be read by God the Father.

 

18 de Julio del 2021
Nuevamente veo una gran llama que he llegado a reconocer como el Corazón de Dios Padre. Dice: "Incluso el pecado más pequeño crea distancia entre el alma y Mi Corazón Paternal. La persona más santa, si tiene soberbia espiritual en su corazón, puede no ser tan santa después de todo. Nunca se dejen engañar por Satanás para que piensen que son líderes espirituales superiores a los demás; que poseen todas las respuestas. Quizá Mi Providencia los ponga en situaciones para aconsejar o informar a los demás sobre el sendero correcto a elegir. Eso es obra Mía, no de ustedes. En una situación así, cualquier bien que ustedes hagan proviene de Mi Espíritu Santo y no del ingenio humano.""Sean guerreros de la verdad, pero sepan en el corazón que la verdad proviene del Espíritu de la Verdad, no de su propio mérito. La soberbia espiritual es la herramienta que Satanás utiliza para destruir Mi relación con muchos que disfrutan de su santidad como si fuera suya y no como instrumentos de Mi Providencia."

Tito 1:1-3




Carta de Pablo, servidor de Dios y Apóstol de Jesucristo para conducir a los elegidos de Dios a la fe y al conocimiento de la verdadera piedad, con la esperanza de la Vida eterna. Esta Vida ha sido prometida antes de todos los siglos por el Dios que no miente y a su debido tiempo, él manifestó su Palabra, mediante la proclamación de un mensaje que me fue confiado por mandato de Dios, nuestro Salvador.
RE: Latest messages are at Holy Love Ministries (www.holylove.org) and Ministerios del Amor Santo (www.amorsanto.com)