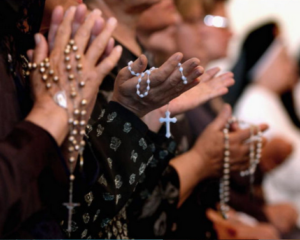 January 15, 2021
Once again, I (Maureen) see a Great Flame that I have come to know as the Heart of God the Father. He says: "Children, do not allow the spirit of discouragement to overshadow your prayers. Be united – good against evil. Victory is still within your grasp if you continue to pray. Satan's real victory is in stopping your prayers and aborting your faith in prayer. Every 'Hail Mary'* makes a difference and weakens Satan. He does not want you to comprehend this. This is why I tell you, as long as you pray, you are chipping away at Satan's overall scheme of things and winning many small victories. Often you do not see the effects your prayers have upon evil efforts. If you pray your whole life and save just one soul, your life is victorious. However, I tell you, many rosaries** save many souls – souls you will not meet until the next life."

"When you pray the rosary, the Holy Mother is holding your hand. Any prayer spans the abyss between Heaven and earth and changes people's motives, events and more. Therefore, have faith the size of a mustard seed and pray, pray, pray."

Read Luke 17:6+

And the Lord said, "If you had faith as a grain of mustard seed, you could say to this sycamine tree, 'Be rooted up, and be planted in the sea,' and it would obey you.

+ Scripture verses asked to be read by God the Father.

 

15 de enero de 2021
Una vez más, yo (Maureen) veo una Gran Llama que he llegado a conocer como el Corazón de Dios Padre. Él dice: "Hijos, no permitan que el espíritu de desánimo ensombrezca sus oraciones. Estén unidos, el bien contra el mal. La victoria todavía está a su alcance si continúan orando. La verdadera victoria de Satanás es detener sus oraciones y abortar su fe en Cada 'Ave María' * hace una diferencia y debilita a Satanás. Él no quiere que comprendas esto. Por eso te digo, mientras ores, estás socavando el esquema general de Satanás y ganando muchos pequeñas victorias. A menudo no ves los efectos que tus oraciones tienen sobre los esfuerzos del mal. Si oras toda tu vida y salvas una sola alma, tu vida es victoriosa. Sin embargo, te digo, muchos rosarios ** salvan muchas almas – almas tú no se reunirá hasta la próxima vida ".

"Cuando rezas el rosario, la Santa Madre te sostiene de la mano. Cualquier oración atraviesa el abismo entre el cielo y la tierra y cambia los motivos, eventos y más de las personas. Por lo tanto, ten fe del tamaño de una semilla de mostaza y reza, reza, reza. "

Leer Lucas 17: 6+

Y el Señor dijo: "Si tuvieras fe como un grano de mostaza, podrías decirle a este árbol sicamín: 'Desarraiga y plantéese en el mar', y le obedecería.

+ Los versículos de las Escrituras pidieron ser leídos por Dios el Padre.
RE: Latest messages are at Holy Love Ministries and Ministerios del Amor Santo