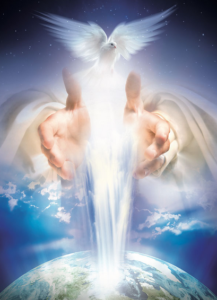 June 14, 2021
Once again, I (Maureen) see a Great Flame that I have come to know as the Heart of God the Father. He says: "I am pleased with the turnout yesterday.* Thousands more were praying at home. Every prayer is a weapon in My Hands against evil. Continue your prayer efforts now to pray as though you were still on the property.** Surrender to Me all your concerns about the future and about the past. My Merciful Love covers all of these with grace."

"The Ministry*** will be thriving now post-pandemic. I treasure each grace I give. It is like sharing part of Me with the faithful who come here. None of the graces given here are wasted. Each grace is an open door to come closer to Me."

"Return, then, to your points of origin and share with others the details of your pilgrimage here. This will inspire even more people to come and receive all that Heaven offers at this prayer site."****

Read Titus 2:11-14+
For the grace of God has appeared for the salvation of all men, training us to renounce irreligion and worldly passions, and to live sober, upright, and godly lives in this world, awaiting our blessed hope, the appearing of the glory of our great God and Savior Jesus Christ, who gave himself for us to redeem us from all iniquity and to purify for himself a people of his own who are zealous for good deeds.

+ Scripture verses asked to be read by God the Father. (Please note: all Scripture given by Heaven refers to the Bible used by the visionary. Ignatius Press – Holy Bible – Revised Standard Version – Second Catholic Edition.)

* Guesstimate ~3000 were present at the apparition site of Maranatha Spring and Shrine located at 37137 Butternut Ridge Rd in North Ridgeville, Ohio 44039.during the Hour of Mercy to receive God the Father's Triple Blessing. For information on the Triple Blessing (Blessing of Light, Patriarchal Blessing and Apocalyptic Blessing), please see: https://www.holylove.org/wp-content/uploads/2020/07/Triple_Blessing.pdf
** Aids available for your consideration: Pilgrim Walk / Virtual Pilgrimage Video https://www.holylove.org/shrine/pilgrim-walk/ AND 7pm EST livestream broadcast and archived livestream broadcasts https://www.holylove.org/livestream/
*** The ecumenical Ministry of Holy and Divine Love at Maranatha Spring and Shrine.

**** For a summary of blessings given by God the Father, Jesus, Blessed Mother, St. Joseph and St. Michael at Maranatha Spring and Shrine see: https://www.holylove.org/wp-content/uploads/2020/12/A-Summary-of-Blessings-Given-English.pdf

 

14 de Junio del 2021
Nuevamente veo una gran llama que he llegado a reconocer como el Corazón de Dios Padre. Dice: "Estoy contento con la concurrencia de ayer. Miles de personas más estuvieron rezando en casa. Cada oración es un arma en Mis Manos contra el mal. Ahora sigan con sus esfuerzos de oración rezando como si todavía estuvieran en la propiedad. Ríndanme todas sus preocupaciones sobre el futuro y sobre el pasado. Mi amor misericordioso las cubre todas con gracia."

"Ahora el Ministerio prosperará después de la pandemia. Yo atesoro cada gracia que doy. Es como compartir una parte de Mí con los fieles que vienen aquí. Ninguna de las gracias que se dan aquí se desperdicia. Cada gracia es una puerta abierta para acercarse más a Mí."

"Regresen, pues, a sus lugares de origen y compartan con los demás los detalles de su peregrinación aquí. Esto inspirará a más personas a venir y recibir todo lo que el Cielo ofrece en este lugar de oración."

Lean Tito 2:11-14
Porque la gracia de Dios, que es fuente de salvación para todos los hombres, se ha manifestado. Ella nos enseña a rechazar la impiedad y los deseos mundanos, para vivir en la vida presente con sobriedad, justicia y piedad, mientras aguardamos la feliz esperanza y la Manifestación de la gloria de nuestro gran Dios y Salvador, Cristo Jesús. Él se entregó por nosotros, a fin de librarnos de toda iniquidad, purificarnos y crear para sí un Pueblo elegido y lleno de celo en la práctica del bien.
RE: Latest messages are at Holy Love Ministries (www.holylove.org) and Ministerios del Amor Santo (www.amorsanto.com)