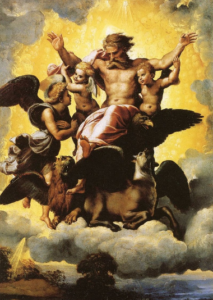 July 24, 2021
Once again, I (Maureen) see a Great Flame that I have come to know as the Heart of God the Father. He says: "Most of all, I desire each soul that journeys here* on August 1st** comes with an open, believing heart. That is My prayer for everyone. That way, I am able to fill each heart with peace and understanding and the Truth. These days, the Truth and peace of heart are challenged on every side. The threat of disease is promoted to encourage insecurity and fear. Fear is always the bearer of lack of peace."

"In this nation,* there is a nefarious campaign by leaders to destroy national well-being. You had a President*** who promoted well-being and national pride. Your current President**** is dismantling all of this. When hearts are consumed by fear and insecurity, it will seem advantageous to conform with the One World Order."

"My Triple Blessing***** will give you peace and help you to discern the Truth. Prepare your hearts with joy."

Read Psalm 23:1-6+

The LORD is my shepherd, I shall not want; he makes me lie down in green pastures. He leads me beside still waters; he restores my soul. He leads me in paths of righteousness for his name's sake.

Even though I walk through the valley of the shadow of death, fear no evil; or you are with me; your rod and your staff, they comfort me.

You prepare a table before me in the presence of my enemies; you anoint my head with oil, my cup overflows.

Surely goodness and mercy shall follow me all the days of my life; and I shall dwell in the house of the LORD for ever.

+ Scripture verses asked to be read by God the Father.

 

24 de Julio del 2021
Nuevamente veo una gran llama que he llegado a reconocer como el Corazón de Dios Padre. Dice: "Yo, más que todo, deseo que cada alma que viaje aquí el 1º de agosto venga con un corazón abierto y creyente. Esa es Mi oración para todos. De esa manera, Yo puedo llenar cada corazón de paz y entendimiento y con la verdad. En estos días, la verdad y la paz de corazón son desafiadas por todos lados. La amenaza de enfermedad se promueve para alentar la inseguridad y el miedo. El miedo siempre es el portador de la falta de paz."

"En esta Nación hay una campaña perversa de líderes para destruir el bienestar nacional. Ustedes tenían un presidente que promovía el bienestar y el orgullo nacional. Su actual Presidente (Joseph R. Biden) está deshaciendo todo esto. Cuando el miedo y la inseguridad consuman los corazones, parecerá ventajoso someterse al Orden Mundial Único."

"Mi triple Bendición les dará paz y los ayudará a distinguir la verdad. Preparen sus corazones con alegría."

Lean Salmo 23:1-6
El Señor es mi pastor, nada me puede faltar. Él me hace descansar en verdes praderas, me conduce a las aguas tranquilas y repara mis fuerzas; me guía por el recto sendero, por amor de su Nombre. Aunque cruce por oscuras quebradas, no temeré ningún mal, porque tú estás conmigo: tu vara y tu bastón me infunden confianza. Tú preparas ante mí una mesa, frente a mis enemigos; unges con óleo mi cabeza y mi copa rebosa. Tu bondad y tu gracia me acompañan a lo largo de mi vida; y habitaré en la Casa del Señor, por muy largo tiempo.
RE: Latest messages are at Holy Love Ministries (www.holylove.org) and Ministerios del Amor Santo (www.amorsanto.com)