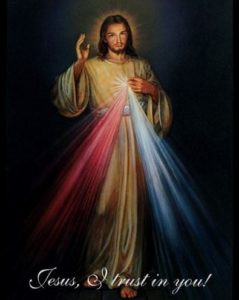 April 11, 2021 Divine Mercy Sunday
Jesus says: "I am your Jesus, born Incarnate."

"My Mercy extends from age to age and to all generations. The key to My Mercy is a repentant heart. If you trust in these, My Words to you, you will have nothing to fear. The repentant heart should rejoice and be glad for his is the way to eternal happiness. Find your peace in the promise of My Mercy. Such peace is meant to last into eternity. My Kingdom is the inheritance of the humble, repentant heart."

"Let your borders define each nation, but let each nation define My Love and My Mercy. This is the way to one world peace. The future holds no promise for those who reject My Love and Mercy."

"My Divine Love and Divine Mercy are the essence of Heaven. Today, rejoice in Heaven on earth!"

Read Matthew 9:1-2+
And getting into a boat he crossed over and came to his own city.
2 And behold, they brought to him a paralytic, lying on his bed; and when Jesus saw their faith, he said to the paralytic, "Take heart, my son; your sins are forgiven."
+ Scripture verses asked to be read by Jesus.

 

11 de Abril del 2021
Domingo de la Divina Misericordia
Jesús dice: "Yo soy tu Jesús, nacido Encarnado."

"Mi misericordia se extiende de generación en generación y por todos los siglos. La llave de Mi misericordia es un corazón contrito. Si confían en estas palabras Mías, no tendrán nada que temer. El corazón contrito debe alegrarse y estar feliz porque está en el camino a la felicidad eterna. Encuentren su paz en la promesa de Mi misericordia. Esa paz debe durar hasta la eternidad. Mi Reino es la herencia del corazón humilde y contrito."

"Dejen que sus fronteras delimiten cada nación, pero que cada nación delimite Mi amor y Mi misericordia. Este es el camino para una paz mundial. El futuro no tiene ninguna promesa para quienes rechazan Mi amor y misericordia."

"Mi Amor Divino y Mi Divina Misericordia son la esencia del Cielo. Hoy, ¡regocíjense en el Cielo sobre la tierra!"

Lean Mateo 9:1-2
Jesús subió a la barca, atravesó el lago y regresó a su ciudad. Entonces le presentaron a un paralítico tendido en una camilla. Al ver la fe de esos hombres, Jesús dijo al paralítico: 'Ten confianza, hijo, tus pecados te son perdonados'.
RE: Latest messages are at Holy Love Ministries (www.holylove.org) and Ministerios del Amor Santo (www.amorsanto.com)