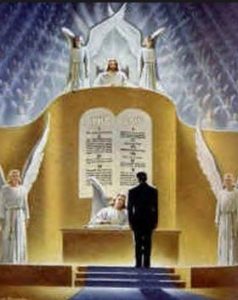 August 19, 2021
Once again, I (Maureen) see a Great Flame that I have come to know as the Heart of God the Father. He says: "Children, I love each one of you deeply despite any sin. I continue to call each of you into My Mercy which is all-forgiving of the repentant heart. For any soul to repent, he must first acknowledge the Truth of his guilt and desire to return to My Loving Embrace. These days, Satan – the Prince of Lies – is leading many souls astray by disguising the Truth."

"Millions do not respect My Commandments,* let alone know them and believe in them. Their lives are filled with love of the world and all that is passing. Each soul must choose his own salvation by merit of his devotion to Me and My Commandments. Any other path leads to perdition."

Read 1 John 3:18-24+

Little children, let us not love in word or speech but in deed and in truth. By this we shall know that we are of the truth, and reassure our hearts before him whenever our hearts condemn us; for God is greater than our hearts, and he knows everything. Beloved, if our hearts do not condemn us, we have confidence before God; and we receive from him whatever we ask, because we keep his commandments and do what pleases him. And this is his commandment, that we should believe in the name of his Son Jesus Christ and love one another, just as he has commanded us. All who keep his commandments abide in him, and he in them. And by this we know that he abides in us, by the Spirit which he has given us.

+ Scripture verses asked to be read by God the Father.

 

19 de Agosto del 2021
Nuevamente veo una gran llama que he llegado a reconocer como el Corazón de Dios Padre. Dice: "Hijos, Yo amo profundamente a cada uno de ustedes, a pesar de cualquier pecado. Sigo llamando a todos a Mi misericordia, la cual le perdona todo al corazón arrepentido. Para que un alma se arrepienta, primero tiene que reconocer la verdad de su culpa y desear regresar a Mi abrazo amoroso. En la actualidad, Satanás, el príncipe de las mentiras, está llevando por mal camino a muchas almas al disfrazar la verdad."

"Millones de personas no respetan Mis mandamientos, y mucho menos los conocen ni creen en ellos. Sus vidas están llenas de amor por el mundo y por todo lo que es pasajero. Cada alma tiene que elegir su propia salvación en virtud de su devoción por Mí y Mis mandamientos. Cualquier otro sendero lleva a la perdición."

Lean 1ª Juan 3:18-24




Hijitos míos, no amemos solamente con la lengua y de palabra, sino con obras y de verdad. En esto conoceremos que somos de la verdad, y estaremos tranquilos delante de Dios aunque nuestra conciencia nos reproche algo, porque Dios es más grande que nuestra conciencia y conoce todas las cosas. Queridos míos, si nuestro corazón no nos hace ningún reproche, podemos acercarnos a Dios con plena confianza, y él nos concederá todo cuanto le pidamos, porque cumplimos sus mandamientos y hacemos lo que le agrada. Su mandamiento es este: que creamos en el nombre de su Hijo Jesucristo, y nos amemos los unos a los otros como él nos ordenó. El que cumple sus mandamientos permanece en Dios, y Dios permanece en él; y sabemos que él permanece en nosotros, por el Espíritu que nos ha dado.
RE: Latest messages are at Holy Love Ministries (www.holylove.org) and Ministerios del Amor Santo (www.amorsanto.com)