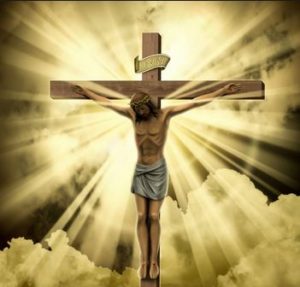 March 19, 2021
Once again, I (Maureen) see a Great Flame that I have come to know as the Heart of God the Father. He says: "Most of all, when I call you to Holy Love, I am asking you to pray for an attitude of forgiveness. Forgiveness was preached to you from the Cross when My Son asked Me to forgive those who crucified Him. In everyday life, you may not see specific opportunities in which to forgive. But, it is enough to remember you need to forgive yourself for past sins of unforgiveness and past mortal sins which wounded Our Divine Hearts, as well as the heart of the world. The fact that everyone behaves uncharitably in their earthly life at some time calls for repentance in the present."

"To forgive means you recognize there are times when you loved sin more than you loved Me and My Son, and to seek forgiveness out of love. My Heart is always ready to forgive – always ready to love. Allow yourselves to be convicted in error so that you can practice forgiveness of self. This is just as important as forgiving others."

"Forgiveness opens the door to grace and makes your human heart more perfect in Holy Love and in My Sight."

Read Matthew 9:2-8+

And behold, they brought to him a paralytic, lying on his bed; and when Jesus saw their faith, he said to the paralytic, "Take heart, my son; your sins are forgiven." And behold, some of the scribes said to themselves, "This man is blaspheming." But Jesus, knowing their thoughts, said, "Why do you think evil in your hearts? For which is easier, to say, 'Your sins are forgiven,' or to say, 'Rise and walk'? But that you may know that the Son of man has authority on earth to forgive sins"-he then said to the paralytic-"Rise, take up your bed and go home." And he rose and went home. When the crowds saw it, they were afraid, and they glorified God, who had given such authority to men.

Read Colossians 3:12-14+

Put on then, as God's chosen ones, holy and beloved, compassion, kindness, lowliness, meekness, and patience, forbearing one another and, if one has a complaint against another, forgiving each other; as the Lord has forgiven you, so you also must forgive. And over all these put on love, which binds everything together in perfect harmony.

+ Scripture verses asked to be read by God the Father.

 

19 de marzo de 2021
Una vez más, yo (Maureen) veo una Gran Llama que he llegado a conocer como el Corazón de Dios Padre. Él dice: "Sobre todo, cuando los llamo al Amor Santo, les pido que oren por una actitud de perdón. El perdón les fue predicado desde la Cruz cuando Mi Hijo me pidió que perdonara a los que lo crucificaron. vida, es posible que no vea oportunidades específicas para perdonar. Pero, es suficiente recordar que necesita perdonarse a sí mismo por los pecados pasados ​​de falta de perdón y los pecados mortales pasados ​​que hirieron Nuestros Corazones Divinos, así como el corazón del mundo. El hecho de que todo el mundo se comporte sin caridad en su vida terrenal en algún momento exige el arrepentimiento en el presente ".

"Perdonar significa reconocer que hay momentos en los que amaron el pecado más de lo que me amaban a Mi Hijo y a Mí, y buscar el perdón por amor. Mi Corazón está siempre listo para perdonar, siempre listo para amar. Permítase ser condenado en el error. para que puedas practicar el perdón a ti mismo. Esto es tan importante como perdonar a los demás ".

"El perdón abre la puerta a la gracia y hace que tu corazón humano sea más perfecto en el Amor Santo y en Mi Vista".

Leer Mateo 9: 2-8 +

Y he aquí, le trajeron un paralítico acostado en su cama; y cuando Jesús vio la fe de ellos, dijo al paralítico: "Anímate, hijo mío, tus pecados te son perdonados". Y he aquí, algunos de los escribas se dijeron a sí mismos: "Este hombre blasfema". Pero Jesús, conociendo sus pensamientos, dijo: "¿Por qué piensan mal en sus corazones? Porque ¿qué es más fácil, decir: 'Tus pecados son perdonados' o decir: 'Levántate y anda'? Pero para que sepas que el Hijo del Hombre tiene autoridad en la tierra para perdonar los pecados "-le ​​dijo entonces al paralítico-" Levántate, toma tu lecho y vete a casa ". Y se levantó y se fue a casa. Cuando las multitudes lo vieron, tuvieron miedo y glorificaron a Dios, que había dado tal autoridad a los hombres.

Lea Colosenses 3: 12-14 +

Vístanse, pues, como escogidos de Dios, santos y amados, de compasión, bondad, humildad, mansedumbre y paciencia, soportándose unos a otros y, si alguno tiene queja contra otro, perdonándose unos a otros; como el Señor os perdonó, también vosotros perdonéis. Y sobre todo esto, ponte amor, que une todo en perfecta armonía.

+ Los versículos de las Escrituras pidieron ser leídos por Dios el Padre.
RE: Latest messages are at Holy Love Ministries (www.holylove.org) and Ministerios del Amor Santo (www.amorsanto.com)