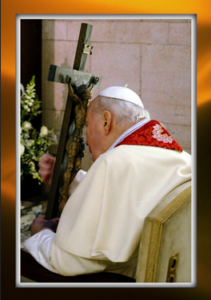 March 11, 2021
Once again, I (Maureen) see a Great Flame that I have come to know as the Heart of God the Father. He says: "When you understand that deeper holiness is dependent upon deeper humility, it is then necessary to explore ways in which you fail in humility. Pride is the opposite of humility. Therefore, the soul who wants to become more holy needs to discover areas of pride in his life. Pride is always based upon disordered self-love. This may be demonstrated in placing self first – others last. Pride likes the spotlight and thrives upon self-importance. Pride presents itself as having all the answers or in concern for how others regard him."

"Now, you must understand, that moving deeper into holiness requires a big effort of free will. Free-will choices will have to constantly be surrendered to the most humble thought, word or deed. This choice of deeper holiness has to be supported by much prayer seeking Heaven's assistance. The soul will never build a stronger 'house' of personal holiness without the help of the Master Carpenter – Me. I send the necessary grace through the Heart of the Holy Mother."*

"The soul cannot become more holy unless he is willing to try to become more humble. He can only accomplish deeper humility through the enlightenment of prayer. Deeper holiness is the fruit of deeper Holy Love in the heart."

Read 1 Corinthians 13:4-7,13+

Love is patient and kind; love is not jealous or boastful; it is not arrogant or rude. Love does not insist on its own way; it is not irritable or resentful; it does not rejoice at wrong, but rejoices in the right. Love bears all things, believes all things, hopes all things, endures all things. . . So faith, hope, love abide, these three; but the greatest of these is love.

+ Scripture verses asked to be read by God the Father.

 

11 de Marzo del 2021
Nuevamente veo una gran llama que he llegado a reconocer como el Corazón de Dios Padre. Dice: "Cuando comprenden que la santidad más profunda depende de una mayor humildad, entonces es necesario analizar las formas en las que fallan en la humildad. La soberbia es lo opuesto a la humildad. Por lo tanto, el alma que quiere ser más santa necesita descubrir las áreas de soberbia en su vida. La soberbia siempre se basa en el amor propio desordenado. Esto se puede demostrar al ponerse uno mismo en primer lugar y a los demás en último. A la soberbia le gusta ser el centro de atención y se nutre de la prepotencia. La soberbia se presenta como poseedora de todas las respuestas o preocupada por la forma en que la perciben los demás."

"Ahora, deben comprender que para avanzar en la santidad es necesario un gran esfuerzo de la libre voluntad. Las decisiones del libre albedrío tendrán que rendirse constantemente a los pensamientos, palabras o acciones más humildes. Esta decisión por una santidad más profunda tiene que estar respaldada por mucha oración buscando la ayuda del Cielo. El alma nunca construirá una casa de la santidad personal más fuerte sin la ayuda del experto carpintero: Yo. Yo envío la gracia necesaria por medio del Corazón de la Santa Madre."

"El alma no puede volverse más santa si no está dispuesta a intentar volverse más humilde. Solamente puede lograr una mayor humildad por medio de la iluminación de la oración. La santidad más profunda es el fruto del Amor Santo más intenso en el corazón."

Lean 1ª Corintios 13:4-7, 13




El amor es paciente, es servicial; el amor no es envidioso, no hace alarde, no se envanece, no procede con bajeza, no busca su propio interés, no se irrita, no tiene en cuenta el mal recibido, no se alegra de la injusticia, sino que se regocija con la verdad. El amor todo lo disculpa, todo lo cree, todo lo espera, todo lo soporta. …En una palabra, ahora existen tres cosas: la fe, la esperanza y el amor, pero la más grande de todas es el amor.
RE: Latest messages are at Holy Love Ministries (www.holylove.org) and Ministerios del Amor Santo (www.amorsanto.com)