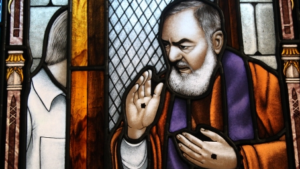 September 29, 2021
Once again, I (Maureen) see a Great Flame that I have come to know as the Heart of God the Father. He says: "Behold, I am with you as you prepare your hearts for the upcoming prayer event and Apparition of Mary, Most Holy.* Free your hearts of all unforgiveness as that is the greatest barrier to grace. Within this process, make a special effort to forgive yourself. When your heart is most free of all these impediments to grace, I am free to ask the Holy Virgin** to fill your hearts with every grace – deserving and undeserving. She is incapable of refusing Me anything."

"As you are readying your hearts today on the Feast of the Great Archangels, ask their assistance in securing peace of heart as the Apparition approaches. They are filled with joyful anticipation as the day approaches and will be happy to help you."

"It is always and only your free will which stands between us."

Read Colossians 3:12-14+

Put on then, as God's chosen ones, holy and beloved, compassion, kindness, lowliness, meekness, and patience, forbearing one another and, if one has a complaint against another, forgiving each other; as the Lord has forgiven you, so you also must forgive. And over all these put on love, which binds everything together in perfect harmony.

Read Revelations 12:7-8+

Now war arose in heaven, Michael and his angels fighting against the dragon; and the dragon and his angels fought, but they were defeated and there was no longer any place for them in heaven.

+ Scripture verses asked to be read by God the Father.

 

29 de Septiembre del 2021
Nuevamente veo una gran llama que he llegado a reconocer como el Corazón de Dios Padre. Dice: "He aquí que estoy con ustedes conforme preparan sus corazones para el próximo evento de oración y para la aparición de María Santísima. Liberen sus corazones de toda falta de perdón, porque ese es el mayor obstáculo para la gracia. Dentro de este proceso, hagan un esfuerzo especial para perdonarse a sí mismos. Cuando el corazón está más libre de todos estos impedimentos para la gracia, Yo puedo pedirle a la Virgen Santa que llene sus corazones con cada gracia; merecida o no. Ella no es capaz de negarme nada."

"Conforme preparan sus corazones, hoy, en la Fiesta de los grandes Arcángeles, pídanles su ayuda para asegurar la paz del corazón a medida que se acerca la aparición. Ellos están llenos de alegre expectación mientras se acerca el día y estarán felices de ayudarlos."

"Lo único que siempre se interpone entre nosotros es su libre albedrío."

Lean Colosenses 3:12-14




Revístanse, pues como elegidos de Dios, santos y amados, de entrañas de misericordia de bondad, humildad, mansedumbre, paciencia, soportándose unos a otros, y perdonándose mutuamente, si alguno tiene queja contra otro. Como el Señor los perdonó, perdónense también ustedes. Y por encima de todo esto, revístanse del amor, que es el broche de la perfección.

Apocalipsis 12:7-12
Entonces se libró una batalla en el cielo: Miguel y sus Ángeles combatieron contra el Dragón, y este contraatacó con sus ángeles, pero fueron vencidos y expulsados del cielo.
RE: Latest messages are at Holy Love Ministries (www.holylove.org) and Ministerios del Amor Santo (www.amorsanto.com)