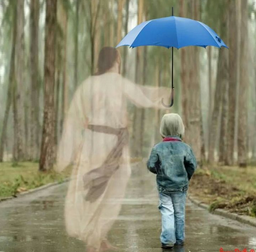 October 13, 2021
Once again, I (Maureen) see a Great Flame that I have come to know as the Heart of God the Father. He says: "Children, gather together under the umbrella of My Will. Allow your attitudes to be one with Mine – this is what pleases Me. Rebelliousness is sin. When we are of one mind and intention, we can change the heart of the world.""The heart of the world is most important as it charts the course of salvation or damnation. If people can discern good from evil, they will not pull My Wrath down upon themselves. They will not test My Patience. Then every season of existence will be joyous and peaceful."

"As it is, there are many controversies which find their solution in error. Politics decide moral issues. Evil sits in high places. When My Son* returns will He find any sincere faith?"

"Align your attitudes with My Will. Then I will look down upon you with joy and peace."

Read Ephesians 2:8-10+

For by grace you have been saved through faith; and this is not your own doing, it is the gift of God – not because of works, lest any man should boast. For we are his workmanship, created in Christ Jesus for good works, which God prepared beforehand, that we should walk in them.

+ Scripture verses asked to be read by God the Father.

 

13 de Octubre del 2021
Nuevamente veo una gran llama que he llegado a reconocer como el Corazón de Dios Padre. Dice: "Hijos, reúnanse bajo la protección de Mi Voluntad. Dejen que sus pensamientos coincidan con los Míos; esto es lo que me agrada. La rebeldía es un pecado. Cuando coincidimos en la manera de pensar y en los propósitos, podemos cambiar el corazón del mundo.""El corazón del mundo es muy importante, ya que traza el rumbo de la salvación o la condenación. Si las personas pueden distinguir el bien del mal, no atraerán Mi Ira sobre sí mismos, ni pondrán a prueba Mi paciencia. Entonces, cada etapa de la existencia será alegre y pacífica."

"La realidad es que existen muchas controversias que encuentran solución en el error. La política decide temas morales. El mal se acomoda en puestos importantes. Cuando Mi Hijo regrese, ¿encontrará algo de fe sincera?"

"Alineen sus comportamientos con Mi Voluntad. Entonces, Yo los voltearé a ver con alegría y paz."

Lean Efesios 2:8-10




Porque ustedes han sido salvados por su gracia, mediante la fe. Esto no proviene de ustedes, sino que es un don de Dios; y no es el resultado de las obras, para que nadie se gloríe. Nosotros somos creación suya: fuimos creados en Cristo Jesús, a fin de realizar aquellas buenas obras, que Dios preparó de antemano para que las practicáramos.
RE: Latest messages are at Holy Love Ministries (www.holylove.org) and Ministerios del Amor Santo (www.amorsanto.com)