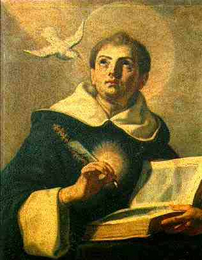 St. Thomas Aquinas
Feast of St. Thomas Aquinas
January 29, 2021 ·


St. Thomas Aquinas is here. His eyes are black in color.

He says: "Praise be to Jesus."

"When you (Maureen) were a youngster you played a lot with paper dolls. You could change their clothes in an instant and they looked different. But Papa God wants people to change on the inside – to have repentant hearts. This can only be accomplished by free will – not a paper dress outside to be admired. This is real."

 

Santo Tomás de Aquino
Fiesta de Santo Tomás de Aquino
29 de enero de 2021 ·


Santo Tomás de Aquino está aquí. Sus ojos son de color negro.

Dice: "Alabado sea Jesús".

"Cuando tú (Maureen) eras pequeña jugabas mucho con muñecas de papel. Podías cambiar sus ropas en un instante y se veían diferentes. Pero papá Dios quiere que la gente cambie por dentro, que tenga corazones arrepentidos. Esto solo puede ser logrado por el libre albedrío, no un vestido de papel afuera para ser admirado. Esto es real ".
RE: Latest messages are at Holy Love Ministries and Ministerios del Amor Santo