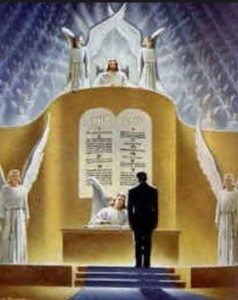 September 29, 2020 Once again, I (Maureen) see a Great Flame that I have come to know as the Heart of God the Father. He says: "Children, pray for the Victory of Truth in hearts, especially during this upcoming election.* Politics is so often a playground for Satan. Many times a lying spirit is behind certain opinions. Pray that Truth is the inspiration in hearts of the candidates and those who listen to them. Truth is the foundation for discernment."

"You have, in this country,** the mainstream media, which influences the world. This media is very biased and sways hearts towards error. Therefore, it is necessary that before a soul chooses, he allows those who are seeking office to be vetted according to My Commandments. This is the barometer of worthiness. The future of the world depends on the choices voters make in November."

"Great is My confidence in the wisdom of My children."

Read 2 Thessalonians 3:5+

May the Lord direct your hearts to the love of God and to the steadfastness of Christ.

Read 2 Timothy 1:14+

Guard the truth that has been entrusted to you by the Holy Spirit who dwells within us.

+ Scripture verses asked to be read by God the Father.

 

29 de Septiembre del 2020
Nuevamente veo una gran llama que he llegado a reconocer como el Corazón de Dios Padre. Dice: "Hijos, recen pidiendo la victoria de la verdad en los corazones, sobre todo durante las próximas elecciones. Para Satanás, la política, con mucha frecuencia, es un campo de juego. Muchas veces hay un espíritu de mentira detrás de ciertas opiniones. Recen para que la verdad sea la inspiración en los corazones de los candidatos y de quienes los escuchan. La verdad es la base del discernimiento."

"En este País, ustedes tienen el principal medio de comunicación que ejerce influencia en el mundo. Este medio es muy tendencioso y hace que los corazones se inclinen hacia el error. Por lo tanto, es necesario que antes de que un alma haga su elección, examine conforme a Mis mandamientos a quienes buscan un puesto. Este es el barómetro de la honorabilidad. El futuro del mundo depende de las decisiones que tomen los electores en noviembre."

"Grande es Mi confianza en la sabiduría de Mis hijos."

Lean 2ª Tesalonicenses 3:5
Que el Señor los encamine hacia el amor de Dios y les dé la perseverancia de Cristo.

2ª Timoteo 1:14
Conserva lo que se te ha confiado, con la ayuda del Espíritu Santo que habita en nosotros.
RE: Latest messages are at Holy Love Ministries and Ministerios del Amor Santo