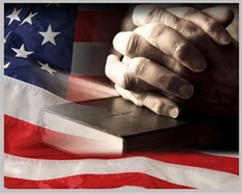 October 17, 2020 · Printer Friendly · Listen
Share on FacebookTweet about this on Twitter
Once again, I (Maureen) see a Great Flame that I have come to know as the Heart of God the Father. He says: "Children, once again, I tell you, do not believe or be misled by polls in this presidential race.* An official poll does not represent what is in hearts across America. Have faith that all things are possible and keep praying. Remember always that it is Satan who is the king of lies."

"As with everything in life, you must search out the Truth and cling to it with courage. This is true not only in politics, but in all your choices in life. The Truth of My Commandments must be your standard. My Commandments are the rule of life I ask you to cling to in order to help you to make righteous decisions. Every choice bears its own consequences. In this particular election, the stakes are high. Satan is confounded by those who are tenacious in the Truth. Do not be manipulated by a figurehead who seems to have the polls in his favor. Put your choice to good use. Be My instrument in the world. Assist Me in helping to build up My Kingdom on earth."

Read 1 John 3:19-24+

By this we shall know that we are of the truth, and reassure our hearts before him whenever our hearts condemn us; for God is greater than our hearts, and he knows everything. Beloved, if our hearts do not condemn us, we have confidence before God; and we receive from him whatever we ask, because we keep his commandments and do what pleases him. And this is his commandment, that we should believe in the name of his Son Jesus Christ and love one another, just as he has commanded us. All who keep his commandments abide in him, and he in them. And by this we know that he abides in us, by the Spirit which he has given us.

+ Scripture verses asked to be read by God the Father.

 

17 de Octubre del 2020
Nuevamente veo una gran llama que he llegado a reconocer como el Corazón de Dios Padre. Dice: "Hijos, una vez más les digo, no crean ni se dejen engañar por las encuestas en esta contienda presidencial. Una encuesta oficial no representa lo que hay en los corazones en todo el País. Tengan fe de que todas las cosas son posibles, y sigan rezando. Recuerden siempre que Satanás es el rey de las mentiras."

"Como todo en la vida, ustedes tienen que buscar la verdad y aferrarse a ella con valentía. Esto es cierto no solamente en la política, sino en todas sus decisiones en la vida. La verdad de Mis mandamientos tiene que ser su norma. Mis mandamientos son la regla de vida a la que Yo les pido que se aferren para poder ayudarlos a tomar decisiones rectas. Cada decisión tiene sus propias consecuencias. En estas elecciones en particular, hay mucho en juego. Satanás es confundido por los que son tenaces en la verdad. Que no los manipule ninguna figura representativa que parezca tener las encuestas a su favor. Hagan buen uso de su elección. Sean instrumentos Míos en el mundo. Ayúdenme a construir Mi reino en la tierra."

Lean 1ª Juan 3:19-24




En esto conoceremos que somos de la verdad, y estaremos tranquilos delante de Dios aunque nuestra conciencia nos reproche algo, porque Dios es más grande que nuestra conciencia y conoce todas las cosas. Queridos míos, si nuestro corazón no nos hace ningún reproche, podemos acercarnos a Dios con plena confianza, y él nos concederá todo cuanto le pidamos, porque cumplimos sus mandamientos y hacemos lo que le agrada. Su mandamiento es este: que creamos en el nombre de su Hijo Jesucristo, y nos amemos los unos a los otros como él nos ordenó. El que cumple sus mandamientos permanece en Dios, y Dios permanece en él; y sabemos que él permanece en nosotros, por el Espíritu que nos ha dado.
RE: Latest messages are at Holy Love Ministries and Ministerios del Amor Santo