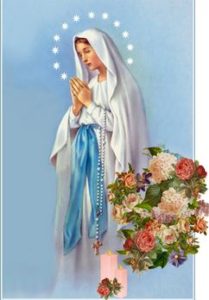 Feast of Our Lady of Lourdes
February 11, 2021
The Blessed Virgin Mary says: "Praise be to Jesus."

"Several decades ago, I appeared to a frail impoverished girl in Lourdes, France.1 Although she did not receive reams of Messages such as the ones here,2 many were converted by the miraculous spring water which still flows today. Once, I told you, this apparition site3 is the Lourdes of this western hemisphere.4 In France, the Church did not take long to believe in Heaven's intervention there.5 Here, however, the Church has been unsupportive despite numerous miraculous healings and many untold miracles in support of My Apparitions here.6"

"This bespeaks of the cynicism of this generation, which has become dependent upon human effort and not Heaven's intervention. Prayer is no longer accepted as a solution, but as a feeble crutch. Heaven still attempts to capture hearts and return them to God's Domain through the volumes of Messages given here7 and the miracles on the property, especially Maranatha Spring water."8

"So it is, once again, I invite everyone, most especially My wayward children, to read these miraculous Messages and come to the site where so many favors have been granted. Most of all trust in Heaven's loving intervention here. Believe that we are listening to every petition. I pray for all to accept God's answer to each prayer. God's Will be done.9 Come into My Arms on this blessed prayer site."

Read Galatians 3:6-9+

Thus Abraham "believed God, and it was reckoned to him as righteousness." So you see that it is men of faith who are the sons of Abraham. And the Scripture, foreseeing that God would justify the Gentiles by faith, preached the gospel beforehand to Abraham, saying, "In you shall all the nations be blessed." So then, those who are men of faith are blessed with Abraham who had faith.
Footnotes

1. Our Blessed Mother appeared eighteen times to Bernadette Soubirous in 1858 in Lourdes – a village in France from 11 February to 16 July 1858.

2. The Messages of Holy and Divine Love at Maranatha Spring and Shrine.

3. The apparition site of Maranatha Spring and Shrine located at 37137 Butternut Ridge Rd in North Ridgeville, Ohio 44039.

4. See Message dated May 31, 1995 here: https://www.holylove.org/message/5421/

5. On 18 January 1860, the local bishop declared: "The Virgin Mary did appear indeed to Bernadette Soubirous."

6. See submitted testimonies from those who have witnessed or experienced miracles here: https://www.holylove.org/shrine/testimonies/
+ Scripture verses asked to be read by the Blessed Virgin Mary.7. To obtain 'The Messages of Holy and Divine Love – Vol. 1-8' see: https://www.rosaryoftheunborn.com/store/pc/viewPrd.asp?idproduct=583&idcategory=0

8. Water from the spring at the apparition site of Maranatha Spring and Shrine. For more information see: https://www.holylove.org/wp-content/uploads/2020/08/Maranatha-Spring-ENG-7-7-2020.pdf

9. See Message dated June 3, 2002 here: https://www.holylove.org/message/1606/

 

11 de Febrero del 2021
Fiesta de Nuestra Señora de Lourdes
La Santísima Virgen María dice: "Alabado sea Jesús."

"Hace varias décadas, me aparecí en Lourdes, Francia, a una pobre y frágil niña. Aunque ella no recibió la cantidad de mensajes como los que se dan aquí, muchos se convirtieron por el agua milagrosa del manantial que sigue brotando hoy. Una vez les dije que este lugar de aparición es el Lourdes de este hemisferio occidental. En Francia, la Iglesia no tardó en creer en la intervención del Cielo allá. Aquí, sin embargo, la Iglesia no ha sido solícita, a pesar de las numerosas sanaciones milagrosas y de los incontables milagros que respaldan Mis apariciones aquí."

"Esto habla del cinismo de esta generación, la cual se ha vuelto dependiente del esfuerzo humano y no de la intervención del Cielo. La oración ya no se acepta como una solución, sino como una ayuda débil. El Cielo sigue intentando conquistar corazones y regresarlos al dominio de Dios a través de la cantidad de mensajes que aquí se dan y de los milagros en la propiedad, sobre todo del agua del Manantial Maranathá."

"Así que, una vez más, invito a todos, muy especialmente a Mis hijos descarriados, a que lean estos mensajes milagrosos y vengan al lugar donde se conceden tantos favores. Antes que nada, confíen en la amorosa intervención del Cielo aquí. Crean que estamos escuchando cada petición. Yo rezo para que todos acepten la respuesta de Dios a cada oración. Se hará la Voluntad de Dios. Vengan a Mis Brazos en este bendito lugar de oración."

Lean Gálatas 3:6-9
Es el caso de Abraham, que creyó en Dios, y esto le fue tenido en cuenta para su justificación. Reconozcan, entonces, que los verdaderos hijos de Abraham son los que tienen fe. La Escritura, previendo que Dios justificaría a los paganos por la fe, anticipó esta buena noticia a Abraham, prometiéndole: En ti serán bendecidas todas las naciones. De esa manera, los que creen son los que participan de la bendición de Abraham, el creyente.
RE: Latest messages are at Holy Love Ministries and Ministerios del Amor Santo