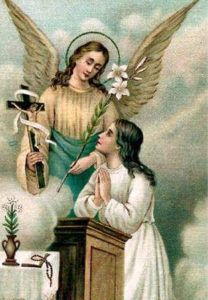 December 31, 2020
Once again, I (Maureen) see a Great Flame that I have come to know as the Heart of God the Father. He says: "Children, as the New Year begins tomorrow, today, I invite each soul to take inventory of where he stands before Me. What does the soul see as an effort to come closer to Me in the year 2021? Has he made an effort to come closer to Me by strict adherence to My Commandments? Does he hold himself accountable to his effort to build his house of personal holiness in his present moment decisions? Make an effort to identify what carries him farther away from Me and leads him down the path of perdition."

"I will bless his efforts to discover his strengths and weaknesses and to use each coming moment in the new year in an effort to know Me and to love Me."

Read Psalm 2:10-12+

Now therefore, O kings, be wise; be warned, O rulers of the earth. Serve the LORD with fear, with trembling rejoice, lest he be angry, and you perish in the way; for his wrath is quickly kindled. Blessed are all who take refuge in him.

+ Scripture verses asked to be read by God the Father.

 

31 de Diciembre del 2020
Nuevamente veo una gran llama que he llegado a reconocer como el Corazón de Dios Padre. Dice: "Hijos, dado que el año nuevo inicia mañana, hoy invito a cada alma a hacer un balance del lugar que tiene ante Mí. ¿Cuál es el esfuerzo que el alma considera para acercarse más a Mí en el 2021? ¿Ha hecho un esfuerzo por acercarse más a Mí apegándose estrictamente a Mis mandamientos? ¿Considera que se esforzó en construir su casa de santidad personal al tomar decisiones en todo momento presente? Hagan un esfuerzo por identificar aquello que los aleja más de Mí y los conduce al sendero de la perdición."

"Yo bendeciré sus esfuerzos por descubrir sus fortalezas y debilidades y por utilizar cada momento futuro en el nuevo año esforzándose por conocerme y amarme."

Lean Salmo 2:10-12




Por eso, reyes, sean prudentes; aprendan, gobernantes de la tierra. Sirvan al Señor con temor; temblando, ríndanle homenaje, no sea que se irrite y vayan a la ruina, porque su enojo se enciende en un instante. ¡Felices los que se refugian en él!
RE: Latest messages are at Holy Love Ministries and Ministerios del Amor Santo