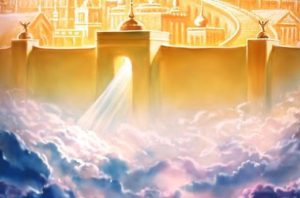 April 15, 2021
Once again, I (Maureen) see a Great Flame that I have come to know as the Heart of God the Father. He says: "Children, in My Kingdom to come, My Will shall embrace every heart and every heart will embrace My Will. That will be the essence of the New Jerusalem. But we are not there yet. Therefore, I urge each soul to surrender to My Will in these most evil of times. In your acceptance is your surrender. Pray for the strength to do this. Holy Surrender is the way to ease My Mournful Heart and to change the hearts of unbelievers. Each of you has been given a role to play in your earthly life and the grace to carry it out in victory. No role is too lowly and no role is too mighty to humbly embrace My Commandments. If you make the effort to live out your role according to My Commandments, I will assist you and listen to your prayers. We will not be strangers."

"Persevere in this path I have given you for success – the success of your own salvation. Then we can share the New Jerusalem."

Read Ephesians 2:8-10+

For by grace you have been saved through faith; and this is not your own doing, it is the gift of God – not because of works, lest any man should boast. For we are his workmanship, created in Christ Jesus for good works, which God prepared beforehand, that we should walk in them.

Read 1 John 3:22-24+

…and we receive from him whatever we ask, because we keep his commandments and do what pleases him. And this is his commandment, that we should believe in the name of his Son Jesus Christ and love one another, just as he has commanded us. All who keep his commandments abide in him, and he in them. And by this we know that he abides in us, by the Spirit which he has given us.

+ Scripture verses asked to be read by God the Father.

 

15 de Abril del 2021
Nuevamente veo una gran llama que he llegado a reconocer como el Corazón de Dios Padre. Dice: "Hijos, en Mi Reino por venir, Mi Voluntad ha de abrazar cada corazón y cada corazón abrazará Mi Voluntad. Esa será la esencia de la Nueva Jerusalén. Pero todavía no estamos ahí. Por lo tanto, exhorto a cada alma a rendirse a Mi Voluntad en estos tiempos tan malos. En su aceptación está su rendición. Recen pidiendo la fuerza para hacerlo. La santa rendición es la manera de aliviar Mi Desolado Corazón y cambiar los corazones de los no creyentes. Cada uno de ustedes ha recibido un rol que desempeñar en su vida terrenal y la gracia para realizarlo con éxito. Ningún rol es demasiado insignificante y ningún rol es demasiado importante para aceptar Mis mandamientos con humildad. Si hacen el esfuerzo de vivir su rol conforme a Mis mandamientos, Yo los ayudaré y escucharé sus oraciones. No seremos extraños."

"Perseveren en este sendero que Yo les he dado para su triunfo; el triunfo de su propia salvación. Entonces podremos compartir la Nueva Jerusalén."

Lean Efesios 2:8-10




Porque ustedes han sido salvados por su gracia, mediante la fe. Esto no proviene de ustedes, sino que es un don de Dios; y no es el resultado de las obras, para que nadie se gloríe. Nosotros somos creación suya: fuimos creados en Cristo Jesús, a fin de realizar aquellas buenas obras, que Dios preparó de antemano para que las practicáramos.

1ª Juan 3:22-24




…y él nos concederá todo cuanto le pidamos, porque cumplimos sus mandamientos y hacemos lo que le agrada. Su mandamiento es este: que creamos en el nombre de su Hijo Jesucristo, y nos amemos los unos a los otros como él nos ordenó. El que cumple sus mandamientos permanece en Dios, y Dios permanece en él; y sabemos que él permanece en nosotros, por el Espíritu que nos ha dado.
RE: Latest messages are at Holy Love Ministries (www.holylove.org) and Ministerios del Amor Santo (www.amorsanto.com)