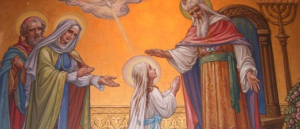 Feast of The Presentation of the Blessed Virgin Mary
November 21, 2020
Once again, I (Maureen) see a Great Flame that I have come to know as the Heart of God the Father. He says: "Children, let your prayers be filled with hope. Hope is faith in what you do not see. In the face of the 'election' your nation just experienced,* have hope that the fraud which turned the tide will be revealed and Truth will be victorious. Hope, to be genuine, must be based upon trust. Trust is the foundation of positive thinking, which strengthens your prayers."

"Once again, I must caution you, stay away from mass media, which presents a tainted picture of the reality which is going on. This same source of news puts the full weight of its influence behind the candidate most controlled by outsiders. Once worthy of your trust, the mass media has become a tool of evil."

"Be careful of unity in the wrong things – such as the One World Order. Be united in prayer, faith and Holy Love, which all has My Approval. Dear children, do not be impressed by any propaganda presented to you as Truth. Trust in My Plan and where I am leading. It is a path away from mainstream society."

Read Romans 8:28+

We know that in everything God works for good with those who love him, who are called according to his purpose.

Read Psalm 4:2-3+

O sons of men, how long will you be dull of heart? How long will you love vain words, and seek after lies? But know that the Lord has set apart the godly for himself; the Lord hears when I call to him.

+ Scripture verses asked to be read by God the Father.

 

21 de Noviembre del 2020
Nuevamente veo una gran llama que he llegado a reconocer como el Corazón de Dios Padre. Dice: "Hijos, que sus oraciones estén llenas de esperanza. La esperanza es tener fe en lo que no ven. Ante las elecciones que su Nación recién experimentó, tengan la esperanza de que el fraude que cambió el rumbo será revelado y que la verdad triunfará. La esperanza, para que sea auténtica, tiene que estar basada en la confianza. La confianza es el cimiento del pensamiento positivo, el cual se fortalece con sus oraciones."

"Una vez más debo advertirles, aléjense de los medios de comunicación, los cuales presentan un panorama contaminado de la realidad de lo que está sucediendo. Esta misma fuente de noticias pone todo el peso de su influencia en el candidato más controlado por personas de fuera. Los medios de comunicación que antes eran dignos de confianza se han vuelto una herramienta del mal."

"Tengan cuidado de la unión en las cosas equivocadas, tal como el Orden Mundial Único. Estén unidos en la oración, la fe y el Amor Santo, todo lo cual tiene Mi aprobación. Queridos hijos, que no los impresione ninguna propaganda que se les presente como verdad. Confíen en Mi plan y hacia donde los estoy guiando. Es un sendero alejado de la sociedad en general."

Lean Romanos 8:28
Sabemos, además, que Dios dispone todas las cosas para el bien de los que lo aman, de aquellos que él llamó según su designio.

Salmo 4:3-4
Y ustedes, señores, ¿hasta cuándo ultrajarán al que es mi Gloria, amarán lo que es falso y buscarán lo engañoso? Sepan que el Señor hizo maravillas por su amigo: él me escucha siempre que lo invoco.
RE: Latest messages are at Holy Love Ministries and Ministerios del Amor Santo