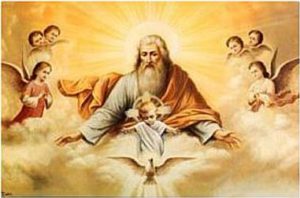 July 28, 2021
Once again, I (Maureen) see a Great Flame that I have come to know as the Heart of God the Father. He says: "Prepare your hearts for My upcoming Feast Day* with much prayer and many sacrifices. In your hearts, remember that I am the Creator of all things. I am joyful when you thank Me for everything you see – all you feel and all you can imagine. Human understanding cannot really grasp My Omnipotence. Yet, on My Feast Day, I will touch hearts with My Divine Peace."

"I am able to deliver souls from evil and much danger. It is I who create all good. Relinquish your problems – great and small – to My Provision. Trust that I hold the solutions to your every need in My Paternal Heart. I await your arrival at My prayer site."**

Read Psalm 5:11-12+

But let all who take refuge in you rejoice, let them ever sing for joy; and do defend them, that those who love your name may exult in you. For you bless the righteous, O LORD; you cover him with favor as with a shield.

+ Scripture verses asked to be read by God the Father

 

28 de Julio del 2021
Nuevamente veo una gran llama que he llegado a reconocer como el Corazón de Dios Padre. Dice: "Preparen sus corazones con mucha oración y muchos sacrificios para Mi próxima festividad. Tengan presente en sus corazones que Yo soy el creador de todas las cosas. Me alegro cuando me agradecen todo lo que ven, todo lo que sienten y todo lo que puedan imaginar. El entendimiento humano no puede realmente captar Mi omnipotencia. No obstante, en Mi festividad, Yo tocaré los corazones con Mi paz divina."

"Yo puedo liberar almas del mal y de muchos peligros. Soy Yo quien crea todo lo bueno. Entreguen sus problemas –grandes o pequeños– a Mi Provisión. Confíen en que, en Mi Corazón Paternal, Yo tengo la solución para cada una de sus necesidades. Estoy a la espera de su llegada a Mi lugar de oración."

Lean Salmo 5:12-13




Así se alegrarán los que en ti se refugian y siempre cantarán jubilosos; tú proteges a los que aman tu Nombre, y ellos se llenarán de gozo. Porque tú, Señor, bendices al justo, como un escudo lo cubre tu favor.
RE: Latest messages are at Holy Love Ministries (www.holylove.org) and Ministerios del Amor Santo (www.amorsanto.com)