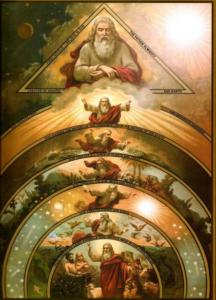 January 6, 2021
Once again, I (Maureen) see a Great Flame that I have come to know as the Heart of God the Father. He says: "Despite the overall consensus that has rallied against the Truth, you, My children, must with courage live in the Truth and represent the Truth. Do not become discouraged by the faulty actions and despicable opinions of those who do not realize what or whom they are embracing. Be as a breath of fresh air in a society stifling with misinformation. Continue to challenge error, so that righteousness is always heard. To this end, I am with you and lend My Hand of support, giving you opportunities to represent the Truth."

"Pray every day for perseverance in Truth and in the hope of a future where those who live in Truth are not a remnant. Truth is honesty. Hope for honesty to be the basis of all future political pursuits."

Read 2 Timothy 4:1-5+

I charge you in the presence of God and of Christ Jesus who is to judge the living and the dead, and by his appearing and his kingdom: preach the word, be urgent in season and out of season, convince, rebuke, and exhort, be unfailing in patience and in teaching. For the time is coming when people will not endure sound teaching, but having itching ears they will accumulate for themselves teachers to suit their own likings, and will turn away from listening to the truth and wander into myths. As for you, always be steady, endure suffering, do the work of an evangelist, fulfil your ministry.

+ Scripture verses asked to be read by God the Father.

 

6 de Enero del 2021
Nuevamente veo una gran llama que he llegado a reconocer como el Corazón de Dios Padre. Dice: "A pesar del consenso general que se ha unido en contra de la verdad, ustedes, hijos Míos, tienen que vivir en la verdad con valentía y tienen que representar la verdad. No se desanimen por las acciones erróneas y las opiniones despreciables de los que no se dan cuenta de qué o a quién están aceptando. Sean como un soplo de aire fresco en una sociedad asfixiada por la desinformación. Sigan desafiando el error, de manera que la justicia sea siempre escuchada. Para este propósito, Yo estoy con ustedes y brindo Mi Mano de apoyo, dándoles oportunidades para representar la verdad."

"Recen todos los días pidiendo perseverar en la verdad y tener esperanza en un futuro en el que quienes viven en la verdad no sean un remanente. La verdad es honestidad. Deseen que la honestidad sea el cimiento de todas las futuras actividades políticas."

Lean 2ª Timoteo 4:1-5




Yo te conjuro delante de Dios y de Cristo Jesús, que ha de juzgar a los vivos y a los muertos, y en nombre de su Manifestación y de su Reino: proclama la Palabra de Dios, insiste con ocasión o sin ella, arguye, reprende, exhorta, con paciencia incansable y con afán de enseñar. Porque llegará el tiempo en que los hombres no soportarán más la sana doctrina; por el contrario, llevados por sus inclinaciones, se procurarán una multitud de maestros que les halaguen los oídos, y se apartarán de la verdad para escuchar cosas fantasiosas. Tú, en cambio, vigila atentamente, soporta todas las pruebas, realiza tu tarea como predicador del Evangelio, cumple a la perfección tu ministerio.
RE: Latest messages are at Holy Love Ministries and Ministerios del Amor Santo