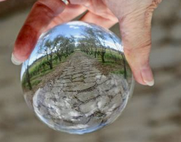 February 28, 2021

Once again, I (Maureen) see a Great Flame that I have come to know as the Heart of God the Father. He says: "Claim your victory over sin in every moment through the choices you make. This is the victory of your free will. Some spend their entire life without definitively deciding for their own salvation. These are the lost lambs who have been duped by Satan and choose the things of this world over love of Me. Your victory, if you choose it, sets you free and apart from the world and its allurements."

"Lay up treasures in Heaven through prayer and sacrifice. Ask for the strength to do this each morning when you arise. I know what is in your heart in every present moment. I see every temptation which comes your way. I know how you choose and why you choose as you do. I am your protection and your guide along the road to your salvation. You face no temptation or choice without Me. Listen for My Voice in the quiet of your heart. Do not be overwhelmed by any single present moment, for I am with you. Your relationship with Me is your strength or your weakness as you choose it."

Read Psalm 4:2-33+

O sons of men, how long will you be dull of heart? How long will you love vain words, and seek after lies? But know that the Lord has set apart the godly for himself; the Lord hears when I call to him.

+ Scripture verses asked to be read by God the Father.

 

28 de Febrero del 2021

Nuevamente veo una gran llama que he llegado a reconocer como el Corazón de Dios Padre. Dice: "Canten victoria sobre el pecado en cada momento por medio de las decisiones que toman. Esta es la victoria de su libre albedrío. Algunos pasan toda su vida sin decidirse por su propia salvación de forma definitiva. Estas son las ovejas perdidas que han sido engañadas por Satanás y eligen las cosas de este mundo por encima del amor a Mí. Su victoria, si la eligen, los hace libres y los aleja del mundo y de sus seducciones."

"Acumulen tesoros en el Cielo a través de la oración y el sacrificio. Pidan la fuerza de realizar esto cada mañana al levantarse. Yo sé lo que hay en sus corazones en cada momento presente. Yo veo cada tentación que se les presenta. Yo sé cómo y por qué eligen lo que eligen. Yo soy su protección y su guía por el camino hacia su salvación. Ustedes no enfrentan ninguna tentación o decisión sin Mí. Escuchen Mi Voz en el silencio de sus corazones. Que ningún momento presente los abrume, porque Yo estoy con ustedes. Su relación Conmigo es su fuerza o su debilidad, según lo elijan."

Lean Salmo 4:3-4
Y ustedes, señores, ¿hasta cuando ultrajarán al que es mi Gloria, amarán lo que es falso y buscarán lo engañoso? Sepan que el Señor hizo maravillas por su amigo: él me escucha siempre que lo invoco.
RE: Latest messages are at Holy Love Ministries and Ministerios del Amor Santo