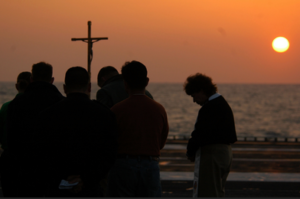 February 24, 2021
Once again, I (Maureen) see a Great Flame that I have come to know as the Heart of God the Father. He says: "My children, you have suffered through many trials – not the least of which is many tests of faith. I ask you now to unite in prayer for all those in leadership roles – not only politically, but those in religious roles, as well. Many lack proper discernment and act indiscreetly causing misdirection for those under them. Amidst this confusion, Satan has his inroads into many souls."

"This is how many souls are misguided and even lost. Aside from this, whole countries succumb to error. In your country* here, actions are being taken to dissolve the borders. This is in support of the New World Order which is Satan's plan to gain control of the world."

"Stand with Me in righteousness and Truth. Do not pave the way for a One World Leader which is the threshold for Satan."

Read 2 Thessalonians 2:9-15+

The coming of the lawless one by the activity of Satan will be with all power and with pretended signs and wonders, and with all wicked deception for those who are to perish, because they refused to love the Truth and so be saved. Therefore, God sends upon them a strong delusion, to make them believe what is false, so that all may be condemned who did not believe the Truth but had pleasure in unrighteousness. But we are bound to give thanks to God always for you, brethren beloved by the Lord, because God chose you from the beginning to be saved, through sanctification by the Spirit and belief in the truth. To this he called you through our gospel, so that you may obtain the glory of our Lord Jesus Christ. So then, brethren, stand firm and hold to the traditions which you were taught by us, either by word of mouth or by letter.

+ Scripture verses asked to be read by God the Father.

 

24 de Febrero del 2021
Nuevamente veo una gran llama que he llegado a reconocer como el Corazón de Dios Padre. Dice: "Hijos Míos, ustedes han sufrido muchas pruebas, entre ellas muchas pruebas de fe. Ahora les pido que se unan en oración por todos los que tienen funciones de liderazgo; no solamente en el ámbito político, sino también en el religioso. Muchos carecen de un discernimiento adecuado y actúan insensatamente causando confusión a sus subordinados. En medio de esta confusión, Satanás tiene sus vías de acceso a muchas almas."

"Así es como muchas almas se desvían y hasta se pierden. Además de esto, naciones enteras sucumben al error. Aquí en su País, se están tomando acciones para eliminar las fronteras. Esto sirve para apoyar el Nuevo Orden Mundial, el cual es el plan de Satanás para obtener el control del mundo."

"Permanezcan Conmigo en la rectitud y en la verdad. No allanen el camino para un líder mundial único, lo cual es la entrada para Satanás."

Lean 2ª Tesalonicenses 2:9-15
La venida del Impío será provocada por la acción de Satanás y estará acompañada de toda clase de demostraciones de poder, de signos y falsos milagros, y de toda clase de engaños perversos, destinados a los que se pierden por no haber amado la verdad que los podía salvar. Por eso, Dios les envía un poder engañoso que les hace creer en la mentira, a fin de que sean condenados todos los que se negaron a creer en la verdad y se complacieron en el mal. Nosotros, por nuestra parte, siempre debemos dar gracias a Dios, a causa de ustedes, hermanos amados por el Señor. En efecto, Dios los eligió desde el principio para que alcanzaran la salvación mediante la acción santificadora del Espíritu y la fe en la verdad. Él los llamó, por medio de nuestro Evangelio, para que posean la gloria de nuestro Señor Jesucristo. Por lo tanto, hermanos, manténganse firmes y conserven fielmente las tradiciones que aprendieron de nosotros, sea oralmente o por carta.
RE: Latest messages are at Holy Love Ministries and Ministerios del Amor Santo