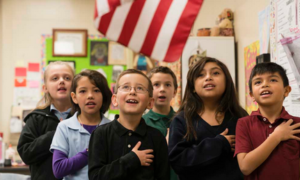 February 9, 2021
Once again, I (Maureen) see a Great Flame that I have come to know as the Heart of God the Father. He says: "Today, I call your nation* to take to heart the Pledge of Allegiance** that used to be recited in classrooms each morning. Are you still one nation – under God? From My Viewpoint, you are now a nation divided in two by politics. The conservatives represent the cause of those who follow My Commandments and follow the Truth. All the others are either unconcerned about the course the nation follows or are instrumental in leading it away from traditional values. The technology I have gifted mankind with has been the culprit in destroying tradition and promoting decadent values."

"It is the age when, more than ever, morals are put to the test. It began decades ago when families were weakened and there was no more joy in family traditions. Holy days, such as Christmas and Easter, were reduced to secular celebrations. The true meaning of holidays was lost amidst economic clatter."

"So, today, I call you to remember the Pledge of Allegiance and to choose to be under My Domain once again. Choose to be a nation which reflects obedience to My Commandments. Then My Arms will be around you once again. My Embrace will be obvious to all."

Read Jonah 3:10+

When God saw what they did, how they turned from their evil way, God repented of the evil which he had said he would do to them; and he did not do it.

+ Scripture verses asked to be read by God the Father.

 

9 de Febrero del 2021
Nuevamente veo una gran llama que he llegado a reconocer como el Corazón de Dios Padre. Dice: "Hoy llamo a su Nación a tomar en serio el Juramento a la Bandera que solía recitarse en las aulas todas las mañanas. ¿Siguen siendo ustedes una nación bajo la autoridad de Dios? Desde Mi punto de vista, ahora son una nación dividida en dos debido a la política. Los conservadores representan la causa de los que siguen Mis mandamientos y siguen la verdad. Todos los demás están despreocupados por el rumbo que sigue la Nación o, bien, contribuyen a alejarla de los valores tradicionales. La tecnología con que Yo he dotado a la humanidad ha sido la culpable de la destrucción de la tradición y de promover valores decadentes."

"Esta es la era en la que, más que nunca, la moral se pone a prueba. Empezó hace décadas cuando la familia se debilitó y dejó de haber alegría en las tradiciones familiares. Festividades, tales como Navidad y Pascua, fueron reducidas a celebraciones civiles. Perdieron el verdadero significado de las fiestas por el boom de la economía."

"Así que, hoy, los llamo a recordar el Juramento a la Bandera y elegir estar bajo Mi dominio una vez más. Elijan ser una nación que refleje la obediencia a Mis mandamientos. Entonces, Mis Brazos estarán alrededor de ustedes nuevamente. Mi abrazo será evidente para todos."

Lean Jonás 3:10
Al ver todo lo que los ninivitas hacían para convertirse de su mala conducta, Dios se arrepintió de las amenazas que les había hecho y no las cumplió.
RE: Latest messages are at Holy Love Ministries and Ministerios del Amor Santo