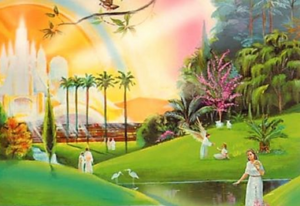 .
May 12, 2021
Once again, I (Maureen) see a Great Flame that I have come to know as the Heart of God the Father. He says: "I create each soul to ultimately come into My House which is Heaven – Paradise. A place is preserved for each soul and is only lost if the soul is lost. My House is a place of comfort and light. Once herein, the soul sees all and knows all. He can travel anywhere with a thought. He sees colors which do not exist in the world. He is always in My Presence and united to My Divine Will. Since there is no time or space in Heaven, if the soul desires to be present at My Son's* Nativity, he is there. Whatever brings him joy is My Will for him in Paradise.""My House only closes its doors on the unfortunate souls who do not live to please Me while they are in the world. When a soul makes wrongful choices in his earthly existence, his only hope of entering My House is a repentant heart before he draws his last breath. The doors of My House are always open to the repentant sinner."

"Choose well, My children. Your place in My House awaits you."

Read Psalm 23:1-6+




The LORD is my shepherd, I shall not want;




he makes me lie down in green pastures.




He leads me beside still waters;




he restores my soul.




He leads me in paths of righteousness




for his name's sake.

Even though I walk through the valley of the shadow of death,




I fear no evil;




for you are with me;




your rod and your staff,




they comfort me.

You prepare a table before me




in the presence of my enemies;




you anoint my head with oil,




my cup overflows.

Surely goodness and mercy shall follow me
all the days of my life;
and I shall dwell in the house of the LORD
for ever.

+ Scripture verses asked to be read by God the Father.

 

12 de Mayo del 2021
Nuevamente veo una gran llama que he llegado a reconocer como el Corazón de Dios Padre. Dice: "Yo creo cada alma para que al final entre a Mi Casa, la cual es el Cielo, el Paraíso. Se conserva un lugar para cada alma y solo se pierde si el alma se pierde. Mi Casa es un lugar de confort y luz. Una vez ahí, el alma lo ve todo y lo sabe todo. Puede trasladarse a cualquier lugar con un solo pensamiento. El alma ve colores que no existen en el mundo. Siempre está en Mi Presencia y unida a Mi Divina Voluntad. Ya que no hay tiempo ni espacio en el Cielo, si el alma desea estar presente en el nacimiento de Mi Hijo, ahí está. Todo lo que le da alegría es Mi Voluntad para ella en el Paraíso.""Mi Casa solo cierra sus puertas a las almas desafortunadas que no viven para agradarme a Mí mientras están en el mundo. Cuando un alma toma decisiones equivocadas en su existencia terrenal, su única esperanza para entrar a Mi Casa es que su corazón se arrepienta antes de dar su último aliento. Las puertas de Mi Casa siempre están abiertas para el pecador contrito."

"Elijan bien, hijos Míos. Su lugar en Mi Casa los espera."

Lean Salmo 23:1-6




El Señor es mi pastor, nada me puede faltar. El me hace descansar en verdes praderas, me conduce a las aguas tranquilas y repara mis fuerzas; me guía por el recto sendero, por amor de su Nombre. Aunque cruce por oscuras quebradas, no temeré ningún mal, porque tú estás conmigo: tu vara y tu bastón me infunden confianza. Tú preparas ante mí una mesa, frente a mis enemigos; unges con óleo mi cabeza y mi copa rebosa. Tu bondad y tu gracia me acompañan a lo largo de mi vida; y habitaré en la Casa del Señor, por muy largo tiempo.
RE: Latest messages are at Holy Love Ministries (www.holylove.org) and Ministerios del Amor Santo (www.amorsanto.com)