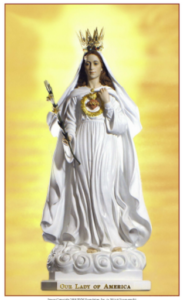 January 5, 2021
Once again, I (Maureen) see a Great Flame that I have come to know as the Heart of God the Father. He says: "The way to destroy democracy is to belittle obedience to the Constitution.* Then, and only then, does someone get elected to office whom the people did not elect. Your nation – the United States – is currently pursuing such a path. Disobedience to the laws your nation was founded upon,** take the whole nation and every balance and check of the government out from under the protection of the Constitution. This mindset has not been encouraged by any patriot, but from outside power mongers."

"Real patriots place the substantiation of actions according to laws which have been in place since the Founding Fathers.*** Pray for these Truths to be accepted by the American public. I desire for the whole nation a fresh Baptism of Truth."****

Read Colossians 2:8-10+

See to it that no one makes a prey of you by philosophy and empty deceit, according to human tradition, according to the elemental spirits of the universe, and not according to Christ. For in him the whole fulness of deity dwells bodily, and you have come to fulness of life in him, who is the head of all rule and authority.

+ Scripture verses asked to be read by God the Father.

 

5 de Enero del 2021
Nuevamente veo una gran llama que he llegado a reconocer como el Corazón de Dios Padre. Dice: "La manera de destruir la democracia es menospreciando la obediencia a la Constitución. Entonces, y solo entonces, se elige a alguien a quien el pueblo no eligió para un cargo público. Su Nación, los Estados Unidos de Norteamérica, actualmente está siguiendo ese camino. La desobediencia a las leyes sobre las que su Nación se fundó elimina la protección que da la Constitución a toda la Nación y a todos los controles y balances del gobierno. Esta mentalidad no ha sido alentada por ningún patriota, sino por traficantes de poder externos."

"Los verdaderos patriotas fundamentan las acciones según las leyes que se han establecido desde los Padres Fundadores. Recen pidiendo que el público estadounidense acepte estas verdades. Yo deseo un nuevo Bautismo de la Verdad para toda la Nación."

Lean Colosenses 2:8-10




No se dejen esclavizar por nadie con la vacuidad de una engañosa filosofía, inspirada en tradiciones puramente humanas y en los elementos del mundo, y no en Cristo. Porque en él habita corporalmente toda la plenitud de la divinidad, y ustedes participan de esa plenitud de Cristo, que es la Cabeza de todo Principado y de toda Potestad.
RE: Latest messages are at Holy Love Ministries and Ministerios del Amor Santo
Download e-Book!                                                                            ¡Descargar E-Libro!