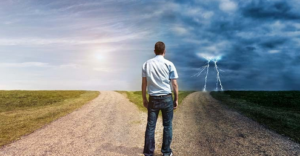 February 1, 2021
Once again, I (Maureen) see a Great Flame that I have come to know as the Heart of God the Father. He says: "I have a Forgiving Heart – a Merciful Heart. Souls need to understand their need for My Mercy in order to experience it. You are living in evil times. Times when sin is not acknowledged. Few there are who respect My Commandments and obey them. I am asking you today to be an example of holiness to those around you. Have a forgiving heart. Imitate My Mercy to those around you."

"I desire souls fear My Justice but do not fear Me. Fear the path your acceptance of sin takes you upon, but understand it is free will that chooses such a path. I choose each soul knows Me and loves Me. I provide you with every opportunity to choose righteousness. Free will chooses either salvation or condemnation. Choose My Will for you which is to welcome you into Paradise."

Read Ephesians 5:15-17+

Look carefully then how you walk, not as unwise men but as wise, making the most of the time, because the days are evil. Therefore do not be foolish, but understand what the will of the Lord is.

+ Scripture verses asked to be read by God the Father.

 

1º de Febrero del 2021
Nuevamente veo una gran llama que he llegado a reconocer como el Corazón de Dios Padre. Dice: "Yo tengo un corazón indulgente; un corazón misericordioso. Es menester que las almas comprendan la necesidad que tienen de Mi misericordia para que puedan experimentarla. Ustedes están viviendo en tiempos malignos; tiempos en los que no se reconoce el pecado. Son pocos los que respetan Mis mandamientos y los obedecen. Hoy les pido que sean un ejemplo de santidad para quienes los rodean. Tengan un corazón indulgente. Imiten Mi misericordia con su prójimo."

"Yo quiero que las almas teman Mi Justicia, pero no que tengan miedo de Mí. Tengan miedo del camino por donde los lleva su aceptación del pecado, pero comprendan que el libre albedrío es lo que elige ese camino. Yo elijo que cada alma me conozca y me ame. Yo les doy oportunidades para elegir la rectitud. El libre albedrío elige ya sea la salvación o la condenación. Elijan Mi Voluntad para ustedes, la cual es recibirlos en el Paraíso."

Lean Efesios 5:15-17




Cuiden mucho su conducta y no procedan como necios, sino como personas sensatas que saben aprovechar bien el momento presente, porque estos tiempos son malos. No sean irresponsables, sino traten de saber cuál es la voluntad del Señor.
RE: Latest messages are at Holy Love Ministries and Ministerios del Amor Santo