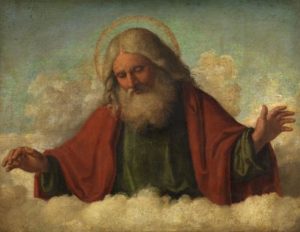 God The Father
Father's Day
June 20, 2021
Once again, I (Maureen) see a Great Flame that I have come to know as the Heart of God the Father. He says: "Children, your salvation lies in every present moment and the choices you make therein. I desire that you love Me as a Loving Father. Do not fear Me. Fear My Justice which I unwillingly impart when you disregard My Commandments. I am the Loving Father some of you never had in the world. I give to you the path of salvation which is the way to Eternal Joy. Love Me enough to follow the path I lay before you. Give to Me your sins with a repentant heart. I stand ready to forgive you."

"Understand that war is the consequence of sin. Man's indifference to My Commandments can result in universal punishment. Do not fear Me. Do fear My inevitable Justice which follows sin always."

"Appeal to My Love by respecting one another through obedience to My Commandments. I watch and witness your choices as any father watches his children."

Read Philippians 2:12-13+

Therefore, my beloved, as you have always obeyed, so now, not only as in my presence but much more in my absence, work out your own salvation with fear and trembling; for God is at work in you, both to will and to work for his good pleasure.

+ Scripture verses asked to be read by God the Father.

 

20 de Junio del 2021
Nuevamente veo una gran llama que he llegado a reconocer como el Corazón de Dios Padre. Dice: "Hijos, su salvación está en cada momento presente y en las decisiones que toman en ese instante. Yo quiero que ustedes me amen como a un padre amoroso. No tengan miedo de Mí. Tengan miedo de Mi Justicia, la cual imparto sin así quererlo cuando ustedes ignoran Mis mandamientos. Yo soy el Padre Amoroso que algunos de ustedes nunca tuvieron en el mundo. Yo les doy el sendero a la salvación, el cual es el camino al gozo eterno. Ámenme lo suficiente como para seguir el sendero que Yo pongo frente a ustedes. Entréguenme sus pecados con un corazón contrito. Yo estoy dispuesto a perdonar."

"Comprendan que la guerra es consecuencia del pecado. La indiferencia del hombre a Mis mandamientos puede provocar el castigo universal. No me tengan miedo. Tengan miedo de Mi inevitable Justicia que siempre es consecuencia del pecado."

"Apelen a Mi amor respetándose mutuamente por medio de la obediencia a Mis mandamientos. Yo observo y advierto sus decisiones como cualquier padre observa a sus hijos."

Lean Filipenses 2:12-13




Por eso, queridos míos, ustedes que siempre me han obedecido, trabajen por su salvación con temor y temblor, no solamente cuando estoy entre ustedes, sino mucho más ahora que estoy ausente. Porque Dios es el que produce en ustedes el querer y el hacer, conforme a su designio de amor.
RE: Latest messages are at Holy Love Ministries (www.holylove.org) and Ministerios del Amor Santo (www.amorsanto.com)