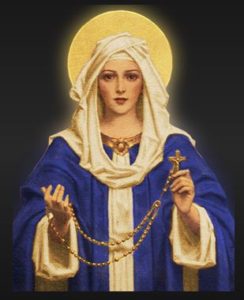 March 14, 2021
Once again, I (Maureen) see a Great Flame that I have come to know as the Heart of God the Father. He says: "These days, I desire you consider your rosaries* as a source of peace. When you pray the rosary or turn your hearts over to any prayer, you untie My Hands and allow Me to work in unprecedented ways during these most troubled times. You cannot see the 'pandemic' of evil that has consumed the heart of the world. This 'pandemic' has no earthly vaccine, but must be stopped with the conversion of hearts. The disease of evil which consumes the heart of the world has many symptoms, but all of these symptoms are represented in the acceptance of evil in the world today."

"A disease must be recognized in order to be treated. I speak to this source**, today, to help the public recognize good from evil. Do not allow the enemy of your salvation to discourage your prayers with his lies. Pray your rosaries and all prayers from the heart. I am listening."

Read Philippians 4:4-7+

Rejoice in the Lord always; again I will say, Rejoice. Let all men know your forbearance. The Lord is at hand. Have no anxiety about anything, but in everything by prayer and supplication with thanksgiving let your requests be made known to God. And the peace of God, which passes all understanding, will keep your hearts and your minds in Christ Jesus.

+ Scripture verses asked to be read by God the Father.

 

14 de Marzo del 2021
Nuevamente veo una gran llama que he llegado a reconocer como el Corazón de Dios Padre. Dice: "En estos días, quiero que consideren sus Rosarios como una fuente de paz. Cuando rezan el Rosario o entregan sus corazones a alguna oración, ustedes desatan Mis Manos y me permiten obrar en formas sin precedente durante estos tiempos tan difíciles. Ustedes no pueden ver la 'pandemia' del mal que ha consumido el corazón del mundo. Esta 'pandemia' no tiene vacuna terrenal, sino que debe frenarse con la conversión de los corazones. La enfermedad del mal que consume el corazón del mundo tiene muchos síntomas, pero todos esos síntomas están representados en la aceptación del mal en el mundo de hoy."

"Para que una enfermedad se pueda tratar, tiene que ser reconocida. Hablo por este medio hoy para ayudarle a la gente a reconocer el bien del mal. No permitan que el enemigo de su salvación desaliente sus oraciones con sus mentiras. Recen sus Rosarios y todas las oraciones con el corazón. Estoy escuchando."

Lean Filipenses 4:4-7




Alégrense siempre en el Señor. Vuelvo a insistir, alégrense. Que la bondad de ustedes sea conocida por todos los hombres. El Señor está cerca. No se angustien por nada, y en cualquier circunstancia, recurran a la oración y a la súplica, acompañadas de acción de gracias, para presentar sus peticiones a Dios. Entonces la paz de Dios, que supera todo lo que podemos pensar, tomará bajo su cuidado los corazones y los pensamientos de ustedes en Cristo Jesús.
RE: Latest messages are at Holy Love Ministries (www.holylove.org) and Ministerios del Amor Santo (www.amorsanto.com)