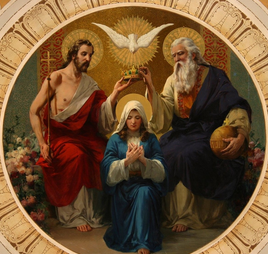 Feast of the Queenship of Mary
Blessed Virgin Mary
August 22, 2021
Our Lady* is here** all in white. The crown on Her Head is made up of lights. She has little pearls all over Her dress.

She says: "Praise be to Jesus."

"Dear children, today, I come to you as Queen of Heaven and earth – Queen of all souls. I come to embrace all of earth with My Motherly touch. I give you the grace to forgive and forget. In this grace is your peace of heart. Do not be disturbed about anything past, present or future. Just 'be' in My Grace today."

"I wish to make all things whole again. Let go of your past and trust in My Grace now and in the future. Every repentant heart is forgiven."

"Rejoice, Rejoice, Rejoice!"

"Rise up and Rejoice in the Lord!"

Read Psalm 75:1+

We give thanks to you, O God; we give thanks; we call on your name and recount your wondrous deeds.

+ Scripture verses asked to be read by God the Father.

 

22 de Agosto del 2021
Fiesta de María Reina
Nuestra Señora está aquí vestida toda de color blanco. La corona sobre Su Cabeza está formada de luces. Hay pequeñas perlas por todo Su vestido. Dice: "Alabado sea Jesús."

"Queridos hijos, vengo a ustedes hoy como la Reina del Cielo y la Tierra; como la Reina de todas las almas. Vengo para abrazar a toda la tierra con Mi toque maternal. Les doy la gracia para perdonar y olvidar. En esta gracia está la paz de su corazón. Que no los inquiete nada del pasado, del presente ni del futuro. Hoy simplemente vivan en Mi gracia."

"Quiero hacer todas las cosas nuevas. Suelten su pasado, y confíen en Mi gracia ahora y en el futuro. Todo corazón arrepentido es perdonado."

"¡Alégrense, alégrense, alégrense! ¡Anímense y regocíjense en el Señor!"

Lean Salmo 75:2
Te damos gracias, Señor, te damos gracias: los que invocan tu Nombre narran tus maravillas.
RE: Latest messages are at Holy Love Ministries (www.holylove.org) and Ministerios del Amor Santo (www.amorsanto.com)