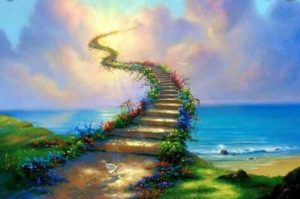 February 7, 2021
Once again, I (Maureen) see a Great Flame that I have come to know as the Heart of God the Father. He says: "Children, I have given you My Commandments as a pathway to Heaven. Obedience to My Commandments is the garment you must wear when you present your soul before My Son's* Judgment. Therefore, learn these rules of Mine and every nuance they represent. Do not rely on a moment of argument when you stand before your God in judgment. There will be no negotiation."

"Represent obedience to My Commandments to others in the world around you. Every controversy can be settled by the embrace of righteousness over evil. It is man's unwillingness to accept good over evil which creates every controversy. If you think about it, My Will is represented in My Commandments and should be easy to figure out. My Divine Will is the umbrella which protects you from evil if you will obey the Commandments I have imparted to you. Your eternal life depends upon this obedience."

Read 1 Peter 1:22-23+

Having purified your souls by your obedience to the truth for a sincere love of the brethren, love one another earnestly from the heart. You have been born anew, not of perishable seed but of imperishable, through the living and abiding word of God;

Read 1 John 3:18-24+

Little children, let us not love in word or speech but in deed and in truth. By this we shall know that we are of the truth, and reassure our hearts before him whenever our hearts condemn us; for God is greater than our hearts, and he knows everything. Beloved, if our hearts do not condemn us, we have confidence before God; and we receive from him whatever we ask, because we keep his commandments and do what pleases him. And this is his commandment, that we should believe in the name of his Son Jesus Christ and love one another, just as he has commanded us. All who keep his commandments abide in him, and he in them. And by this we know that he abides in us, by the Spirit which he has given us.

+ Scripture verses asked to be read by God the Father.

 

7 de Febrero del 2021
Nuevamente veo una gran llama que he llegado a reconocer como el Corazón de Dios Padre. Dice: "Hijos, les he dado Mis mandamientos como una vía al Cielo. La obediencia a Mis mandamientos es el traje que tienen que utilizar cuando presenten su alma en el juicio ante Mi Hijo. Por lo tanto, aprendan estas reglas Mías y cada matiz que ellas representan. No se confíen en que habrá un momento para argumentar cuando estén ante su Dios en el juicio. No habrá ninguna negociación."

"Personifiquen la obediencia a Mis mandamientos ante los demás en el mundo a su alrededor. Toda controversia se puede resolver abrazando la rectitud sobre el mal. Lo que crea cada controversia es la renuencia del hombre para aceptar el bien sobre el mal. Si lo piensan, Mi Voluntad está representada en Mis mandamientos, y debería ser fácil deducirlo. Mi Divina Voluntad es la sombrilla que los protege del mal si ustedes obedecen Mis mandamientos que Yo les he impartido. Su vida eterna depende de esta obediencia."

Lean 1ª Pedro 1:22-23




Por su obediencia a la verdad, ustedes se han purificado para amarse sinceramente como hermanos. Ámense constantemente los unos a los otros con un corazón puro, como quienes han sido engendrados de nuevo, no por un germen corruptible, sino incorruptible: la Palabra de Dios, viva y eterna.

1ª Juan 3:18-24
Hijitos míos, no amemos con la lengua y de palabra, sino con obras y de verdad. En esto conoceremos que somos de la verdad, y estaremos tranquilos delante de Dios aunque nuestra conciencia nos reproche algo, porque Dios es más grande que nuestra conciencia y conoce todas las cosas. Queridos míos, si nuestro corazón no nos hace ningún reproche, podemos acercarnos a Dios con plena confianza, y él nos concederá todo cuanto le pidamos, porque cumplimos sus mandamientos y hacemos lo que le agrada. Su mandamiento es este: que creamos en el nombre de su Hijo Jesucristo, y nos amemos los unos a los otros como él nos ordenó. El que cumple sus mandamientos permanece en Dios, y Dios permanece en él; y sabemos que él permanece en nosotros, por el Espíritu que nos ha dado.
RE: Latest messages are at Holy Love Ministries and Ministerios del Amor Santo