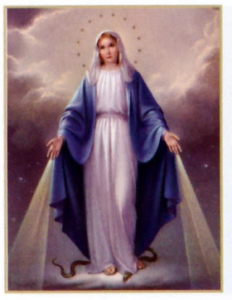 May 18, 2021
Once again, I (Maureen) see a Great Flame that I have come to know as the Heart of God the Father. He says: "I have passed on a multitude of graces filling the Hands of the Holy Mother.* She will in turn fill the hearts of those who come to the property** on June 13th.*** During the Hour of Mercy,**** I will impart to those present, My Triple Blessing.***** This is a Blessing which will fill hearts with peace."

"If only all those engaged in conflict in the Middle East could receive this Blessing, there would be instant peace. As it is, many are not interested in being at peace and would reject the Blessing even if I did impart it to them. Not even Church leaders have spoken out against the atrocities taking place every day over there. Today's leadership is remiss in acting strongly to defend the Truth. Those who do not speak out against this conflict, are influencing the acceptance of the war. The same holds true with the issue of abortion. Speak the Truth or be held accountable."

Read Psalm 2:10-11+

Now therefore, O kings, be wise; be warned, O rulers of the earth. Serve the LORD with fear, with trembling.

Read Psalm 5:4-6+

For you are not a God who delights in wickedness; evil may not sojourn with you. The boastful may not stand before your eyes; you hate all evildoers. You destroy those who speak lies; the LORD abhors bloodthirsty and deceitful men.

Read 1 Timothy 2:1-4+

First of all, then, I urge that supplications, prayers, intercessions, and thanksgivings be made for all men, for kings and all who are in high positions, that we may lead a quiet and peaceable life, godly and respectful in every way. This is good, and it is acceptable in the sight of God our Savior, who desires all men to be saved and to come to the knowledge of the truth.

+ Scripture verses asked to be read by God the Father.

 

18 de Mayo del 2021
Nuevamente veo una gran llama que he llegado a reconocer como el Corazón de Dios Padre. Dice: "He dado una enorme cantidad de gracias llenando las Manos de la Santa Madre. A su vez, Ella llenará los corazones de los que vengan a la propiedad el 13 de junio. Durante la Hora de la Misericordia, impartiré Mi triple Bendición a los ahí presentes. Esta es una bendición que llenará los corazones de paz."

"Si todos los involucrados en el conflicto del Medio Oriente recibieran esta Bendición, habría paz al instante. La realidad es que a muchos no les interesa estar en paz y rechazarían la Bendición incluso si Yo se les impartiera. Ni siquiera los líderes de la Iglesia se han pronunciado en contra de las atrocidades que están sucediendo allá todos los días. El liderazgo de hoy es renuente a actuar enérgicamente para defender la verdad. Quienes no se pronuncian en contra de este conflicto están influenciando en la aceptación de la guerra. Lo mismo sucede con el tema del aborto. Hablen con la verdad o rendirán cuentas."

Lean Salmo 2:10-11




Por eso, reyes, sean prudentes; aprendan, gobernantes de la tierra. Sirvan al Señor con temor; temblando…

Salmo 5:4-6




Tú no eres un Dios que ama la maldad; ningún impío será tu huésped, ni los orgullosos podrán resistir delante de tu mirada. Tú detestas a los que hacen el mal y destruyes a los mentirosos. ¡Al hombre sanguinario y traicionero lo abomina el Señor!

1ª Timoteo 2:1-4
Ante todo, te recomiendo que se hagan peticiones, oraciones, súplicas y acciones de gracias por todos los hombres, por los soberanos y por todas las autoridades, para que podamos disfrutar de paz y de tranquilidad, y llevar una vida piadosa y digna. Esto es bueno y agradable a Dios, nuestro Salvador, porque él quiere que todos se salven y lleguen al conocimiento de la verdad.
RE: Latest messages are at Holy Love Ministries (www.holylove.org) and Ministerios del Amor Santo (www.amorsanto.com)