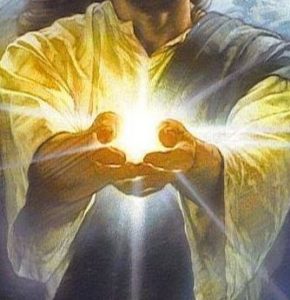 May 15, 2021
Once again, I (Maureen) see a Great Flame that I have come to know as the Heart of God the Father. He says: "Children, in each present moment, it is important to realize, lies your destiny. You can use the present towards your salvation or towards eternal damnation. Most souls do not understand how each present moment affects their future. The soul must move towards a deeper relationship with Me in thought, word and deed in the present or he moves farther away from Me."

"I have the perfect plan for every soul, but he must cooperate with My Grace. Many – most – souls die unprepared for their moment of judgment. These are the ones who have not loved Me enough and who have let their lives slip by without Holy Detachment from the world. In this way, their souls have been easily influenced by Satan. The present moment holds unique opportunities to come deeper into Holy Love. So many suffer the pains of Purgatory in order to be cleansed for entrance into Heaven."

(At this moment, I have an interior vision of Bishop's mitres floating amidst smoke and sparks. He continues.)

"The more souls that are influenced by position and authority the greater the responsibility towards living in Holy Love as an example. Many suffer greatly for their abuse of authority and their disregard for their influence on others. They waste every present moment. They disrespect My Authority and My Commandments. Pray for them."

Read 1 Timothy 2:1-4+

First of all, then, I urge that supplications, prayers, intercessions, and thanksgivings be made for all men, for kings and all who are in high positions, that we may lead a quiet and peaceable life, godly and respectful in every way. This is good, and it is acceptable in the sight of God our Savior, who desires all men to be saved and to come to the knowledge of the truth.

Read Wisdom 6:1-8+
Listen therefore, O kings, and understand; learn, O judges of the ends of the earth.
Give ear, you that rule over multitudes, and boast of many nations.
For your dominion was given you from the Lord, and your sovereignty from the Most High, who will search out your works and inquire into your plans.
Because as servants of his kingdom you did not rule rightly, nor keep the law, nor walk according to the purpose of God,
he will come upon you terribly and swiftly, because severe judgment falls on those in high places.
For the lowliest man may be pardoned in mercy, but mighty men will be mightily tested.
For the Lord of all will not stand in awe of any one, nor show deference to greatness; because he himself made both small and great, and he takes thought for all alike.
But a strict inquiry is in store for the mighty.

+ Scripture verses asked to be read by God the Father.

 

15 de Mayo del 2021
Nuevamente veo una gran llama que he llegado a reconocer como el Corazón de Dios Padre. Dice: "Hijos, es importante comprender que su destino radica en cada momento presente. Ustedes pueden utilizar el presente para su salvación o para la condenación eterna. La mayoría de las almas no comprenden la forma en que cada momento presente afecta su futuro. En el presente, el alma tiene que avanzar hacia una relación más profunda Conmigo de pensamiento, palabra y obra, de lo contrario, se aleja más de Mí."

"Yo tengo el plan perfecto para cada alma, pero ella tiene que cooperar con Mi gracia. Muchas almas –la mayoría– mueren sin estar preparadas para el momento de su juicio. Son las almas que no me han amado lo suficiente y que han vivido sus vidas sin el santo desapego del mundo. De esta forma, sus almas han sido fácilmente influenciadas por Satanás. El momento presente tiene oportunidades únicas para crecer en el Amor Santo. Son muchas las almas que sufren las penas del Purgatorio para poder purificarse y entrar al Cielo."

(En este momento, en una visión interior, veo mitras de obispos flotando entre humo y chispas.)

"Mientras más almas sean influenciadas por alguien de posición y autoridad, mayor es la responsabilidad de esa persona de vivir en Amor Santo como ejemplo. Muchos sufren demasiado por su abuso de autoridad y por su indiferencia hacia la influencia que tienen sobre los demás. Ellos desperdician cada momento presente; no respetan Mi autoridad ni Mis mandamientos. Recen por ellos."

Lean 1ª Timoteo 2:1-4
Ante todo, te recomiendo que se hagan peticiones, oraciones, súplicas y acciones de gracias por todos los hombres, por los soberanos y por todas las autoridades, para que podamos disfrutar de paz y de tranquilidad, y llevar una vida piadosa y digna. Esto es bueno y agradable a Dios, nuestro Salvador, porque él quiere que todos se salven y lleguen al conocimiento de la verdad.

Sabiduría 6:1-8
¡Escuchen, reyes, y comprendan! ¡Aprendan, jueces de los confines de la tierra! ¡Presten atención, los que dominan multitudes y están orgullosos de esa muchedumbre de naciones! Porque el Señor les ha dado el dominio, y el poder lo han recibo del Altísimo: él examinará las obras de ustedes y juzgará sus designios. Ya que ustedes, siendo ministros de su reino, no han gobernado con rectitud ni han respetado la Ley ni han obrado según la voluntad de Dios él caerá sobre ustedes en forma terrible y repentina, ya que un juicio inexorable espera a los que están arriba. Al pequeño, por piedad, se le perdona, pero los poderosos serán examinados con rigor. Porque el Señor de todos no retrocede ante nadie, ni lo intimida la grandeza: él hizo al pequeño y al grande, y cuida de todos por igual. Pero los poderosos serán severamente examinados.
RE: Latest messages are at Holy Love Ministries (www.holylove.org) and Ministerios del Amor Santo (www.amorsanto.com)