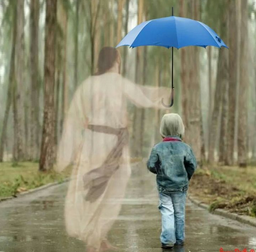 December 7, 2020
Once again, I (Maureen) see a Great Flame that I have come to know as the Heart of God the Father. He says: "Children, I am always the same – always loving, encouraging, providing and protecting. I never abandon you in good times or in great difficulties. Learn from the past to trust in Me in the future. Place the present moment in My Hands."

"Do not be shocked by the decisions of politicians. Humans are prone to error, if their hearts are not grounded in Holy Love. At the same time, do not be shocked at what I allow to take place as a result of man's sinful errors. Stay close to Me, just as I am close to you. This is the way to trust. When you learn to depend upon Me, your prayers are based on trustful love. This is the prayer I am most attentive to."

"Those who distance themselves from Me through disbelief are the ones you must pray for. These unbelievers are more needy than any other soul. The danger is, they do not realize the peril their soul is in. Some turn to Me only as a last resort. All the while I wait for them, with My Arms and My Heart open to welcome them."

"Your every prayer counts. I know how to use each one. You know how to pray through much love and sacrifice. I am waiting for each prayer."

Read Psalm 4:2-3+

O sons of men, how long will you be dull of heart? How long will you love vain words, and seek after lies? But know that the Lord has set apart the godly for himself; the Lord hears when I call to him.

+ Scripture verses asked to be read by God the Father.

 

7 de Diciembre del 2020
Nuevamente veo una gran llama que he llegado a reconocer como el Corazón de Dios Padre. Dice: "Hijos, Yo siempre soy el mismo; siempre amando, alentando, proveyendo y protegiendo. Yo nunca los abandono, ni en los buenos tiempos ni en las grandes dificultades. Aprendan del pasado para confiar en Mí en el futuro. Pongan el momento presente en Mis Manos."

"Que no les sorprendan las decisiones de los políticos. Los humanos tienden al error si sus corazones no están cimentados en el Amor Santo. Al mismo tiempo, no se sorprendan por lo que Yo permito que suceda como resultado de los errores pecaminosos del hombre. Quédense cerca de Mí, tal como Yo estoy cerca de ustedes. Esta es la manera de confiar. Cuando aprenden a depender de Mí, sus oraciones se basan en el amor confiado. Esta es la oración a la que Yo estoy más atento."

"Quienes se alejan de Mí por medio de la incredulidad son por quienes hay que rezar. Estas personas incrédulas están más necesitadas que cualquier otra alma. El riesgo consiste en que ellos no se dan cuenta del peligro en que están sus almas. Algunos acuden a Mí solamente como un último recurso. Yo, todo el tiempo, los espero para recibirlos con Mis Brazos y Mi Corazón abiertos."

"Cada una de sus oraciones cuenta. Yo sé cómo utilizarlas. Ustedes saben cómo rezar con mucho amor y sacrificio. Yo espero cada oración."

Lean Salmo 4:3-4
Y ustedes, señores, ¿hasta cuando ultrajarán al que es mi Gloria, amarán lo que es falso y buscarán lo engañoso? Sepan que el Señor hizo maravillas por su amigo: él me escucha siempre que lo invoco.
RE: Latest messages are at Holy Love Ministries and Ministerios del Amor Santo