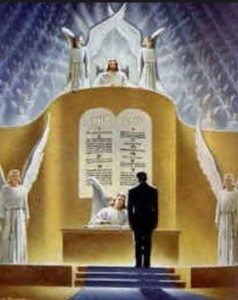 September 19, 2020 Once again, I (Maureen) see a Great Flame that I have come to know as the Heart of God the Father. He says: "I ordain life and death according to My Divine Will. In every case, My timing is significant and perfect. Such was the case yesterday when I called to judgment Ruth Bader Ginsburg. No one – no matter their role in the world – escapes My Justice. Each one is judged upon their obedience to My Commandments. The passing of this Supreme Court Justice opens doors of opportunity. Your President* can now replace this liberal woman with a conservative Justice. His actions as the reigning president will empower his position as a presidential candidate. Since the deceased had much power on earth, her passing will strengthen those who opposed her. To many, it will seem as though an albatross has been removed from hanging around their neck."

"Now, let us move forward in freedom – striking a less inhibited blow for freedom and allowing freedom to be governed by Holy Love in the heart."

Read 1 John 3:24+

All who keep his commandments abide in him, and he in them. And by this we know that he abides in us, by the Spirit which he has given us.

+ Scripture verses asked to be read by God the Father

 

19 de Septiembre del 2020
Nuevamente veo una gran llama que he llegado a reconocer como el Corazón de Dios Padre. Dice: "Yo ordeno la vida y la muerte conforme a Mi Divina Voluntad. En cada caso, Mi tiempo es significativo y perfecto. Tal fue el caso ayer cuando llamé a su juicio a Ruth Bader Ginsburg. Nadie, independientemente de su rol en el mundo, se escapa de Mi Justicia. Cada persona es juzgada según su obediencia a Mis mandamientos. El deceso de esta Juez de la Suprema Corte abre puertas de oportunidad. Su Presidente (Donald J. Trump) ahora puede reemplazar a esta mujer liberal con un juez conservador. Sus acciones como presidente en funciones empoderarán su posición como candidato presidencial. Dado que la fallecida tenía mucho poder en la tierra, su deceso fortalecerá a quienes se oponían a ella. Para muchos, esto parecerá como si les hubieran quitado un lastre de encima."

"Ahora, avancemos libremente, dando un golpe menos reprimido por la libertad y dejando que esta sea gobernada por el Amor Santo en el corazón."

Lean 1ª Juan 3:24




El que cumple sus mandamientos permanece en Dios, y Dios permanece en él; y sabemos que él permanece en nosotros, por el Espíritu que nos ha dado.
RE: Latest messages are at Holy Love Ministries and Ministerios del Amor Santo