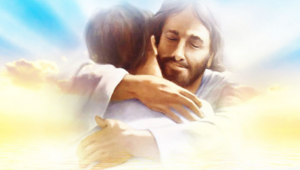 April 23, 2021
Once again, I (Maureen) see a Great Flame that I have come to know as the Heart of God the Father. He says: "A bitter heart is a heart which is angry and unforgiving. Such a heart cannot forget wrongs perpetrated against him. Furthermore, he makes no effort to forget any wrong. I cannot fill the bitter heart with My Grace, as there is no room in such a heart. It is already filled with anger and negative memories."

"On the other hand, the heart which makes every attempt to forgive and forget is open to My Call and My Grace. He is at peace and lives to accommodate My Will for him. The heart which forgives is My ready instrument in the world. He is eager to please Me and he is devoted to obedience to My Commandments."

"Because so many brood over the past, little effort can be made in the present to bring peace amongst nations and people in general. Grudges are never from Me and result in prejudice against whole groups and nations. I speak here* to reconcile all mankind to love Me – to forgive one another and to overcome bitterness."

Read Luke 17:3-4+

Take heed to yourselves; if your brother sins, rebuke him, and if he repents, forgive him; and if he sins against you seven times in the day, and turns to you seven times, and says, 'I repent,' you must forgive him."

+ Scripture verses asked to be read by God the Father.

 

23 de abril de 2021
Una vez más, yo (Maureen) veo una Gran Llama que he llegado a conocer como el Corazón de Dios Padre. Dice: "Un corazón amargado es un corazón enojado e implacable. Un corazón así no puede olvidar los agravios perpetrados contra él. Además, no hace ningún esfuerzo por olvidar ningún agravio. No puedo llenar el corazón amargado con Mi Gracia, ya que no hay lugar en un corazón así. Ya está lleno de ira y recuerdos negativos ".

"Por otro lado, el corazón que hace todo lo posible por perdonar y olvidar está abierto a Mi Llamada y Mi Gracia. Está en paz y vive para acomodar Mi Voluntad para Él. El corazón que perdona es Mi instrumento dispuesto en el mundo. Él está ansioso por agradarme y está dedicado a la obediencia a Mis Mandamientos ".

"Debido a que muchos se preocupan por el pasado, en el presente se puede hacer muy poco esfuerzo para traer la paz entre las naciones y las personas en general. Los rencores nunca vienen de Mí y resultan en prejuicios contra grupos y naciones enteros. Hablo aquí * para reconciliar a toda la humanidad amarme, perdonarnos unos a otros y vencer la amargura ".

Leer Lucas 17: 3-4 +

Mirad por vosotros mismos; si tu hermano peca, repréndelo, y si se arrepiente, perdónalo; y si peca contra ti siete veces al día, y se vuelve a ti siete veces y dice: 'Me arrepiento', debes perdonarlo ".

+ Los versículos de las Escrituras pidieron ser leídos por Dios el Padre.
RE: Latest messages are at Holy Love Ministries (www.holylove.org) and Ministerios del Amor Santo (www.amorsanto.com)