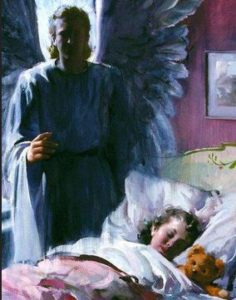 November 23, 2021
Once again, I (Maureen) see a Great Flame that I have come to know as the Heart of God the Father. He says: "Children, when you arise in the morning, dedicate your day to My Divine Will. This is the way to consecrate your hearts and your lives to obedience to My Commandments,* which is always My Will for you. Be assured of My Assistance in this regard. I will ask your guardian angel to remind you of this obedience at every turn in the road."

"Recognize the importance of this obedience to My Commandments as your whole salvation depends on this. Do not allow worldly desires to compete with this all-important obedience to My Commandments. Align your thoughts, words and actions to this obedience and do not allow Satan to talk you out of it."

"Your angels are always trying to remind you of this very important challenge to obey My Commandments. Listen to them."

Read 1 Peter 1:14-16+

As obedient children, do not be conformed to the passions of your former ignorance, but as he who called you is holy, be holy yourselves in all your conduct; since it is written, "You shall be holy, for I am holy."

Read Exodus 23:20-21+

Behold, I send an angel before you, to guard you on the way and to bring you to the place which I have prepared. Give heed to him and hearken to his voice, do not rebel against him, for he will not pardon your transgression; for my name is in him.

+ Scripture verses asked to be read by God the Father.

 

23 de Noviembre del 2021
Nuevamente veo una gran llama que he llegado a reconocer como el Corazón de Dios Padre. Dice: "Hijos, al levantarse en la mañana, ofrezcan su día a Mi Divina Voluntad. Esta es la manera de consagrar sus corazones y sus vidas a la obediencia a Mis mandamientos, lo cual es Mi Voluntad para ustedes. Estén seguros de Mi ayuda en este aspecto. Yo le pediré a su ángel de la guarda que les recuerde de esta obediencia a cada paso que den."

"Reconozcan la importancia de esta obediencia a Mis mandamientos, porque toda su salvación depende de ello. No permitan que los deseos mundanos compitan con esta importantísima obediencia a Mis mandamientos. Alineen sus pensamientos, palabras y acciones a esta obediencia y no permitan que Satanás los convenza de lo contrario."

"Sus ángeles siempre están intentando recordarles este desafío tan importante de obedecer Mis mandamientos. Escúchenlos."

Lean 1ª Pedro 1:14-16




Como hijos obedientes, no procedan de acuerdo con los malos deseos que tenían antes, mientras vivían en la ignorancia. Así como aquel que los llamó es santo, también ustedes sean santos en toda su conducta, de acuerdo con lo que está escrito: Sean santos, porque yo soy santo.

Éxodo 23:20-21
Yo voy a enviar un ángel delante de ti, para que te proteja en el camino y te conduzca hasta el lugar que te he preparado. Respétalo y escucha su voz. No te rebeles contra él, porque no les perdonará las transgresiones, ya que mi Nombre está en él.
RE: Latest messages are at Holy Love Ministries (www.holylove.org) and Ministerios del Amor Santo (www.amorsanto.com)