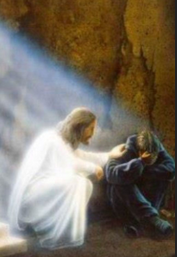 August 8, 2021
Once again, I (Maureen) see a Great Flame that I have come to know as the Heart of God the Father. He says: "Children, conform your hearts to a need for prayer in all situations. This is the way to allow Me Dominion over your hearts. In so doing, I will come to your aid in every situation. I will give you the light of My counsel readily. This is the way the saints lived. I desire to be a part of your every present moment."

"I will never abandon the soul who trusts in Me through a fervent prayer life. If you believe I am listening to your prayers, your faith will bear much fruit. The one who trusts Me is at peace even in the most difficult trials. Your earthly existence is full of snares and even dramatic twists and turns. But the trusting soul is never far from trust in My Protection and Provision. Secure peace of heart with these Truths."

Read Psalm 4:1-3+

Answer me when I call, O God of my right!




You have given me room when I was in distress.




Be gracious to me, and hear my prayer.




O sons of men, how long will you be dull of heart?




How long will you love vain words, and seek after lies?




But know that the Lord has set apart the godly for himself;




the Lord hears when I call to him.




+ Scripture verses asked to be read by God the Father.

 

8 de Agosto del 2021
Nuevamente veo una gran llama que he llegado a reconocer como el Corazón de Dios Padre. Dice: "Hijos, amolden sus corazones a la necesidad de rezar en todas las situaciones. Esta es la manera de permitirme el dominio sobre sus corazones. Al hacerlo, Yo vendré en su auxilio en cada situación. Yo les daré la luz de Mi consejo rápidamente. Esta es la forma en que vivieron los santos. Yo deseo ser parte de cada uno de sus momentos presentes."

"Nunca abandonaré al alma que confía en Mí a través de una fervorosa vida de oración. Si ustedes creen que Yo estoy escuchando sus oraciones, su fe dará mucho fruto. El que confía en Mí está en paz, incluso en las pruebas más difíciles. Su existencia terrenal está llena de trampas y hasta de cambios y giros dramáticos. Pero el alma que confía nunca está lejos de depender de Mi protección y Provisión. Aseguren la paz de corazón con estas verdades."

Lean el Salmo 4:2-4




Respóndeme cuando te invoco, Dios, mi defensor, tú, que en la angustia me diste un desahogo: ten piedad de mí y escucha mi oración. Y ustedes, señores, ¿hasta cuando ultrajarán al que es mi Gloria, amarán lo que es falso y buscarán lo engañoso? Sepan que el Señor hizo maravillas por su amigo: él me escucha siempre que lo invoco.
RE: Latest messages are at Holy Love Ministries (www.holylove.org) and Ministerios del Amor Santo (www.amorsanto.com)