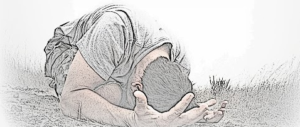 July 7, 2021
Once again, I (Maureen) see a Great Flame that I have come to know as the Heart of God the Father. He says: "My greatest joy is to fill a troubled heart with peace. If a heart empties itself of all concerns, I can easily fill it with My Heavenly peace. Too often souls come to Me with their petitions, focusing only upon their troubles and their needs and not paying heed to My Omnipotence or surrendering to My Will. Such a heart does not stand ready to cherish My Will or to treasure My solutions to their difficulties."

"When you pray or when you make a pilgrimage to this property,* do not focus on your needs so much as you focus on My Divine Will for you. Learn to love My Will as it always results in what is best towards your salvation. As your Heavenly Father, I desire only your salvation. I never abandon the needy soul. I respond to your love for Me with untold graces. If you love Me, you will not be filled with fear but trust."

Read Romans 8:28+

We know that in everything God works for good with those who love him, who are called according to his purpose.

+ Scripture verses asked to be read by God the Father.

 

7 de Julio del 2021




Nuevamente veo una gran llama que he llegado a reconocer como el Corazón de Dios Padre. Dice: "Mi alegría más grande es llenar de paz al corazón atribulado. Si un corazón se vacía de todas las preocupaciones, fácilmente puedo llenarlo con Mi paz celestial. Muy a menudo, las almas vienen a Mí con sus peticiones, enfocándose solamente en sus problemas y necesidades, sin tener en cuenta Mi omnipotencia o sin rendirse a Mi Voluntad. Un corazón así no está preparado para apreciar Mi Voluntad ni valorar Mis soluciones a sus dificultades."

"Cuando recen o cuando hagan una peregrinación a esta propiedad, no se enfoquen tanto en sus necesidades, sino en Mi Divina Voluntad para ustedes. Aprendan a amar Mi Voluntad, ya que siempre resulta en lo que es mejor para su salvación. Como su Padre Celestial, Yo solamente quiero su salvación. Nunca abandono al alma necesitada. Yo respondo a su amor por Mí con gracias indecibles. Si me aman, no se llenarán de miedo, sino de confianza."

Lean Romanos 8:28




Sabemos, además, que Dios dispone todas las cosas para el bien de los que lo aman, de aquellos que él llamó según su designio.
RE: Latest messages are at Holy Love Ministries (www.holylove.org) and Ministerios del Amor Santo (www.amorsanto.com)