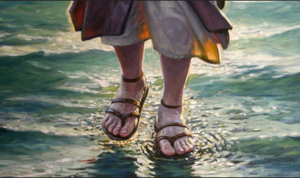 June 9, 2021
Once again, I (Maureen) see a Great Flame that I have come to know as the Heart of God the Father. He says: "If the soul continually says 'yes' to My Divine Will, I will be at his side throughout the day. I will urge him into making the right choices. His angel will act strongly on his behalf. I will expose to him any occasion of sin and direct him away from any temptation. In short, his life will be easier, as he will be able to accept any situation with ease."

"The soul who believes in My Permitting Will shall never have a negative heart. He will trust in My Provision and My Deliverance from any threat – physical, spiritual or emotional. He will be at peace. I choose such souls for My instruments to help in the conversion of the heart of the world. The soul who is at peace interiorly is open to any challenge life presents, as he trusts in Me. Pray for trust in My Will. It is a prayer I will readily answer."

Read Psalm 5:11-12+

But let all who take refuge in you rejoice, let them ever sing for joy; and do defend them, that those who love your name may exult in you. For you bless the righteous, O LORD; you cover him with favor as with a shield.

+ Scripture verses asked to be read by God the Father.

 

9 de Junio del 2021
Nuevamente veo una gran llama que he llegado a reconocer como el Corazón de Dios Padre. Dice: "Si el alma constantemente dice 'sí' a Mi Divina Voluntad, Yo estaré a su lado a lo largo del día; la exhortaré a tomar las decisiones correctas. Su ángel actuará fuertemente a su favor; le revelaré cualquier ocasión de pecado y la alejaré de toda tentación. En resumen, su vida será más fácil, pues podrá aceptar con facilidad cualquier situación."

"El alma que cree en Mi Voluntad Permisiva nunca tendrá un corazón negativo. Confiará en Mi Provisión y en que Yo la libraré de cualquier amenaza física, espiritual o emocional. Estará en paz. Yo elijo a esas almas como Mis instrumentos para ayudar a la conversión del corazón del mundo. El alma que está en paz interiormente está abierta a cualquier desafío que la vida le presente, pues confía en Mí. Recen pidiendo confiar en Mi Voluntad. Esta es una oración que Yo responderé rápidamente."

Lean Salmo 5:12-13




Así se alegrarán los que en ti se refugian y siempre cantarán jubilosos; tú proteges a los que aman tu Nombre, y ellos se llenarán de gozo. Porque tú, Señor, bendices al justo, como un escudo lo cubre tu favor.
RE: Latest messages are at Holy Love Ministries (www.holylove.org) and Ministerios del Amor Santo (www.amorsanto.com)