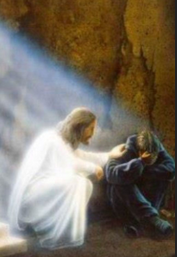 July 26, 2021
Once again, I (Maureen) see a Great Flame that I have come to know as the Heart of God the Father. He says: "My Divine Mercy knows no limit upon the repentant heart. If the soul opens his heart just a crack, I will flood his heart with the relief of My Mercy. All who make a pilgrimage here* on My Feast Day** (August 1st), will receive great peace of heart if their hearts are cleansed of all guilt. Peace of heart is elusive at best in today's world."

"Satan tries to unsettle hearts by presenting before them past errors. If you have repented of your sins, you must not dwell on the past. For Catholics, the path of seeking My Mercy lies in the Sacrament of Confession."

"The evil one's tactics need to be exposed. Trust Me – your Heavenly Father – when I say Satan is in every doubt about the strength of My Mercy."

"My Triple Blessing*** carries with it the Truth, which is a rare treasure in recent times. Therefore, make certain your hearts are prepared by emptying them of all guilt, love of material goods, including all that is passing."

Read Colossians 3:1-6+

If then you have been raised with Christ, seek the things that are above, where Christ is, seated at the right hand of God. Set your minds on things that are above, not on things that are on earth. For you have died, and your life is hid with Christ in God. When Christ who is our life appears, then you also will appear with him in glory. Put to death therefore what is earthly in you: immorality, impurity, passion, evil desire, and covetousness, which is idolatry. On account of these the wrath of God is coming.

+ Scripture verses asked to be read by God the Father.

 

26 de Julio del 2021
Nuevamente veo una gran llama que he llegado a reconocer como el Corazón de Dios Padre. Dice: "Mi Divina Misericordia no conoce límites ante el corazón arrepentido. Si el alma abre su corazón solo un poco, Yo lo llenaré con el alivio de Mi misericordia. Todo el que venga en peregrinación aquí en Mi festividad (el 1º de agosto), recibirá una gran paz de corazón si borran de sus corazones toda culpa. La paz de corazón, en el mejor de los casos, es difícil de conseguir en el mundo de hoy."

"Satanás intenta perturbar los corazones presentándoles errores del pasado. Si ustedes se han arrepentido de sus pecados, no deben permanecer en el pasado. Para el católico, el camino que lleva a Mi misericordia es el Sacramento de la Confesión."

"Las tácticas del maligno tienen que ser expuestas. Confíen en Mí –su Padre Celestial– cuando les digo que Satanás está detrás de cada duda sobre la fuerza de Mi misericordia."

"Mi triple Bendición trae consigo la verdad, la cual es un tesoro poco común en tiempos recientes. Por lo tanto, cerciórense de que sus corazones están preparados vaciándolos de toda culpa, del amor a los bienes materiales, incluyendo todo lo que es pasajero."

Lean Colosenses 3:1-6
Ya que ustedes han resucitado con Cristo, busquen los bienes del cielo donde Cristo está sentado a la derecha de Dios. Tengan el pensamiento puesto en las cosas celestiales y no en las de la tierra. Porque ustedes están muertos, y su vida está desde ahora oculta con Cristo en Dios. Cuando se manifieste Cristo, que es nuestra vida, entonces ustedes también aparecerán con él, llenos de gloria. Por lo tanto, hagan morir en sus miembros todo lo que es terrenal: la lujuria, la impureza, la pasión desordenada, los malos deseos y también la avaricia, que es una forma de idolatría. Estas cosas provocan la ira de Dios sobre los rebeldes.
RE: Latest messages are at Holy Love Ministries (www.holylove.org) and Ministerios del Amor Santo (www.amorsanto.com)