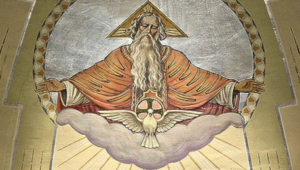 October 30, 2020 Once again, I (Maureen) see a Great Flame that I have come to know as the Heart of God the Father. He says: "Children, today I tell you, if you desire peace in your heart during these troubled times, resolve to surrender to My Divine Will. Only then will you be able to accept each present moment with peace. These days you have to make choices which affect not only your life, but even the whole world. The best way to accept what comes is to let My Will be responsible for the outcome of your choices – choices grounded in prayer and sacrifices. I have a way and the authority to bring all things under My Dominion."

"You do not possess anything that I have not provided – materially or spiritually. Your physical health, as well, is in My charge. You can only change things by means of prayer and sacrifice. Therefore, surrender to Me all situations and watch Me handle everything. In your surrender must be your trust. It is evil which promotes doubt in your hearts. Doubts bear the bad fruit of fear. This is why when you surrender all things to Me, pray for trust in all ways. Even give to Me the unexpected. This way your prayers will find peaceful surrender and be fulfilled in My Divine Will."

Read Psalm 5:11-12+

But let all who take refuge in you rejoice, let them ever sing for joy; and do defend them, that those who love your name may exult in you. For you bless the righteous, O LORD; you cover him with favor as with a shield.

+ Scripture verses asked to be read by God the Father.

 

30 de Octubre del 2020
Nuevamente veo una gran llama que he llegado a reconocer como el Corazón de Dios Padre. Dice: "Hijos, hoy les digo, si ustedes desean tener paz en el corazón durante estos tiempos turbulentos, decidan rendirse a Mi Divina Voluntad. Solo entonces serán capaces de aceptar cada momento presente en paz. En estos días, ustedes tienen que tomar decisiones que afectan no nada más sus vidas, sino incluso al mundo entero. La mejor manera de aceptar lo que llega es dejar que Mi Voluntad sea responsable del resultado de sus decisiones; decisiones cimentadas en la oración y el sacrificio. Yo tengo un camino y la autoridad para poner todas las cosas bajo Mi dominio."

"Ustedes no son dueños de nada que Yo no haya provisto; material o espiritual. Su salud física, también está a Mi cargo. Ustedes solamente pueden cambiar las cosas por medio de la oración y el sacrificio. Por lo tanto, ríndanme a Mí todas las situaciones, y obsérvenme manejar todo. Su confianza tiene que estar en su rendición. Lo que promueve la duda en sus corazones es el mal. Las dudas dan el mal fruto del miedo. Por eso, cuando me rindan todo a Mí, recen pidiendo confianza en todos los sentidos. Entréguenme incluso lo inesperado. De esta forma, sus oraciones encontrarán una rendición pacífica y se cumplirán en Mi Divina Voluntad."

Lean Salmo 5:12-13




Así se alegrarán los que en ti se refugian y siempre cantarán jubilosos; tú proteges a los que aman tu Nombre, y ellos se llenarán de gozo. Porque tú, Señor, bendices al justo, como un escudo lo cubre tu favor.
RE: Latest messages are at Holy Love Ministries and Ministerios del Amor Santo