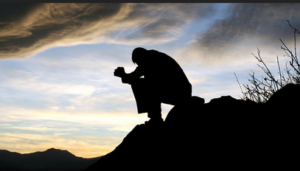 March 21, 2021
Once again, I (Maureen) see a Great Flame that I have come to know as the Heart of God the Father. He says: "Flavor all of your prayers with trust in My Divine Will for you. There are times in everyone's life when prayer petitions are not answered in the way the soul expects or desires. Sometimes in the future, My reasons will be obvious – sometimes not. If you trust that My Will is always the best for you, you will be at peace no matter the outcome of your prayers."

"You may be suffering for others or the conversion of the heart of the world. Remember, souls do not quickly become lost, but it is very often a slow, methodical process. Therefore, with your best prayers, realize patient perseverance bears the victory. Confide all your complaints and petitions to My Paternal Heart – the source of all good. Very often, the solution is just to recognize evil or to forgive. All of your petitions are subject to My Divine Will. Pray for the victory of loving My Will for you."

Read Ephesians 5:15-17+

Look carefully then how you walk, not as unwise men but as wise, making the most of the time, because the days are evil. Therefore do not be foolish, but understand what the will of the Lord is.

+ Scripture verses asked to be read by God the Father.

 

21 de Marzo del 2021
Nuevamente veo una gran llama que he llegado a reconocer como el Corazón de Dios Padre. Dice: "Embellezcan todas sus oraciones con la confianza en Mi Divina Voluntad para ustedes. Hay tiempos en la vida de cada persona en los que las peticiones no reciben la respuesta que el alma espera o desea. Algunas veces, en el futuro, Mis razones serán evidentes; otras no. Si confían en que Mi Voluntad siempre es lo mejor para ustedes, estarán en paz, independientemente del resultado de sus oraciones."

"Quizá están sufriendo por alguien más o por la conversión del corazón del mundo. Recuerden, las almas no se pierden rápidamente, sino que, con mucha frecuencia, es un proceso lento y metódico. Por lo tanto, comprendan que, con sus mejores oraciones, la perseverancia paciente logra la victoria. Confíen todas sus penas y peticiones a Mi Corazón Paternal; la fuente de todo bien. Muy a menudo, la solución consiste tan solo en reconocer el mal o en perdonar. Todas sus peticiones están sujetas a Mi Divina Voluntad. Recen pidiendo la victoria de amar Mi Voluntad para ustedes."

Lean Efesios 5:15-17




Cuiden mucho su conducta y no procedan como necios, sino como personas sensatas que saben aprovechar bien el momento presente, porque estos tiempos son malos. No sean irresponsables, sino traten de saber cuál es la voluntad del Señor.
RE: Latest messages are at Holy Love Ministries (www.holylove.org) and Ministerios del Amor Santo (www.amorsanto.com)