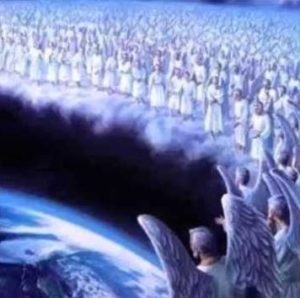 July 8, 2021
Once again, I (Maureen) see a Great Flame that I have come to know as the Heart of God the Father. He says: "If you visit this prayer site* with open hearts, the angels who are My messengers, will give you a fresh perspective as to your state of life and your problems. You will be more prepared to see things as I do. Sometimes solutions are at your fingertips. Other times you will receive the grace you need to follow the path I am calling you upon. The grace will be given to you to bear your crosses."

"The more the soul believes in Holy Love, the more I will send angels to assist him. I want to be close to every soul. I desire My Grace be a determining factor in each soul's decisions. I desire souls treasure their relationship with Me more than any treasure in the material world. My Arms are waiting for every soul to turn to Me with their free will."

"Take heed of all that stands between you and Me. Overcome these obstacles so that we can be closer and together in every present moment."

Read Galatians 6:7-10+

Do not be deceived; God is not mocked, for whatever a man sows, that he will also reap. For he who sows to his own flesh will from the flesh reap corruption; but he who sows to the Spirit will from the Spirit reap eternal life. And let us not grow weary in well-doing, for in due season we shall reap, if we do not lose heart. So then, as we have opportunity, let us do good to all men, and especially to those who are of the household of faith.

+ Scripture verses asked to be read by God the Father.

 

8 de Julio del 2021
Nuevamente veo una gran llama que he llegado a reconocer como el Corazón de Dios Padre. Dice: "Si ustedes visitan este lugar de oración con corazones abiertos, los ángeles, que son Mis mensajeros, les darán una nueva perspectiva del estado de su vida y sus problemas. Estarán más preparados para ver las cosas como Yo las veo. Algunas veces, las soluciones están al alcance de sus manos. Otras veces, recibirán la gracia que necesitan para seguir el sendero al que Yo los invito. Se les dará la gracia para llevar sus cruces."

"Mientras más crea el alma en el Amor Santo, más ángeles enviaré para que la ayuden. Yo quiero estar cerca de cada alma. Deseo que Mi gracia sea un factor determinante en las decisiones de cada alma. Deseo que el alma valore su relación Conmigo más de lo que valora cualquier tesoro del mundo material. Mis Brazos están esperando a que cada alma se vuelva a Mí con su libre albedrío."

"Presten atención a todo lo que se interpone entre ustedes y Yo. Superen estos obstáculos para que podamos estar más cerca y juntos en cada momento presente."

Lean Gálatas 6:7-10




No se engañen: nadie se burla de Dios. Se recoge lo que se siembra: el que siembra para satisfacer su carne, de la carne recogerá sólo la corrupción; y el que siembra según el Espíritu, del Espíritu recogerá la Vida eterna. No nos cansemos de hacer el bien, porque la cosecha llegará a su tiempo si no desfallecemos. Por lo tanto, mientras estamos a tiempo hagamos el bien a todos, pero especialmente a nuestros hermanos en la fe.
RE: Latest messages are at Holy Love Ministries (www.holylove.org) and Ministerios del Amor Santo (www.amorsanto.com)