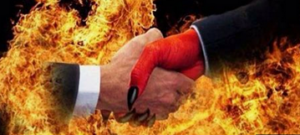 April 17, 2021
Once again, I (Maureen) see a Great Flame that I have come to know as the Heart of God the Father. He says: "I have more to say about what is happening in your nation* politically. Righteousness is being 'swept under the rug' of those who were elected to office by illicit means. The dismantling of democracy – the disregard for the Constitution – plays into the hands of a One World Order. Your nation's government was instituted in such a way so as to be protected from a dictatorship. It is gradually and without circumstance collapsing into a third world country – easily controlled by nefarious powers."

"Complicit with this effort is the news media which concentrates on untruth and redirects concerns and energies towards the errors which will weaken the efforts of those living in the Truth. I am calling My children back into the Truth of My Commandments. With respect, obey them, for they are your salvation. If you would allow Me to lead you through My Commandments, the hidden would be brought to light and exposed. Do not be afraid to support the Truth. Be stalwart in your efforts. Do not allow evil sources to undermine the Truth by promoting cries of prejudice and racism."

Read 2 Timothy 2:14-16, 22-26+

Remind them of this, and charge them before the Lord to avoid disputing about words, which does no good, but only ruins the hearers. Do your best to present yourself to God as one approved, a workman who has no need to be ashamed, rightly handling the word of truth. Avoid such godless chatter, for it will lead people into more and more ungodliness, . . . So shun youthful passions and aim at righteousness, faith, love, and peace, along with those who call upon the Lord from a pure heart. Have nothing to do with stupid, senseless controversies; you know that they breed quarrels. And the Lord's servant must not be quarrelsome but kindly to every one, an apt teacher, forbearing, correcting his opponents with gentleness. God may perhaps grant that they will repent and come to know the truth, and they may escape from the snare of the devil, after being captured by him to do his will.

+ Scripture verses asked to be read by God the Father.

 

17 de Abril del 2021
Nuevamente veo una gran llama que he llegado a reconocer como el Corazón de Dios Padre. Dice: "Tengo algo más que decir sobre lo que está sucediendo en la política de su Nación. Quienes fueron elegidos con medios ilícitos para ocupar puestos públicos están encubriendo la rectitud. La caída de la democracia –la indiferencia hacia la Constitución– beneficia al Orden Mundial Único. El gobierno de su Nación se instituyó de tal manera que fuera protegido de una dictadura. De la nada, y de forma gradual, está colapsando hacia un país de tercer mundo, fácilmente controlado por poderes perversos."

"Cómplices de este esfuerzo son los medios informativos que se centran en falsedades y desvían las preocupaciones y energías hacia los errores que debilitarán los esfuerzos de quienes viven en la verdad. Hago un llamado a Mis hijos para que regresen a la verdad de Mis mandamientos. Obedézcanlos con respeto, porque son su salvación. Si me permitieran guiarlos por medio de Mis mandamientos, lo oculto saldría a la luz y quedaría expuesto. No tengan miedo de apoyar la verdad. Sean firmes en sus esfuerzos. No permitan que las fuentes del mal debiliten la verdad promoviendo clamores de prejuicios y racismo."

Lean 2ª Timoteo 2:14-16, 22-26




No dejes de enseñar estas cosas, ni de exhortar delante de Dios a que se eviten las discusiones inútiles, que sólo sirven para perdición de quienes las escuchan. Esfuérzate en ser digno de la aprobación de Dios, presentándote ante él como un obrero que no tiene de qué avergonzarse y como un fiel dispensador de la Palabra de verdad. Evita los discursos huecos y profanos, que no hacen más que acrecentar la impiedad… No cedas a los impulsos propios de la juventud y busca la justicia, la fe, el amor y la paz, junto con todos los que invocan al Señor con un corazón puro. Evita las cuestiones estúpidas y carentes de sentido: ya sabes que provocan serios altercados. El que sirve al Señor no debe tomar parte en querellas. Por el contrario, tiene que ser amable con todos, apto para enseñar y paciente en las pruebas. Debe reprender con dulzura a los adversarios, teniendo en cuenta que Dios puede concederles la conversión y llevarlos al conocimiento de la verdad, haciéndolos reaccionar y librándolos de la trampa del demonio que los tiene cautivos al servicio de su voluntad.
RE: Latest messages are at Holy Love Ministries (www.holylove.org) and Ministerios del Amor Santo (www.amorsanto.com)
Download e-Book!                                                                            ¡Descargar E-Libro!