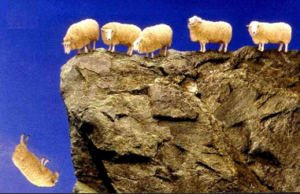 April 24, 2021
Once again, I (Maureen) see a Great Flame that I have come to know as the Heart of God the Father. He says: "These are the times, more than any other, when the fabric of your heart is tested. As I told you, your government* is being dismantled piece-by-piece. If your hearts are not securely grounded in the Truth, you will quite easily be led astray. A government given over to liberalism is the open door to Satan's designs and to the Antichrist. I am appealing to individual hearts now to stand firm in righteousness. You cannot be led astray if you are devoted to My Commandments. One by one, evil choices are presented as good, such as: gun control, abortion, building up the effects of the Supreme Court by adding more judges. All of this, and more to come, are in line with an atheistic agenda."

"Once the nation is ruined by a weakening of morals, the Antichrist will step in as a 'savior'. In your hearts, be prepared and do not waiver in the Truth. Hang on to your faith in Me as your Omnipotent God."

Read 2 Thessalonians 2:9-12+

The coming of the lawless one by the activity of Satan will be with all power and with pretended signs and wonders, and with all wicked deception for those who are to perish, because they refused to love the Truth and so be saved. Therefore, God sends upon them a strong delusion, to make them believe what is false, so that all may be condemned who did not believe the Truth but had pleasure in unrighteousness.

+ Scripture verses asked to be read by God the Father.

 

24 de Abril del 2021
Nuevamente veo una gran llama que he llegado a reconocer como el Corazón de Dios Padre. Dice: "Estos son los tiempos, más que ningún otro, en que se pone a prueba de qué están hechos sus corazones. Como les dije, su gobierno está siendo desmantelado a pedazos. Si sus corazones no están firmemente cimentados en la verdad, serán engañados muy fácilmente. Un gobierno entregado al liberalismo es la puerta abierta a los designios de Satanás y al anticristo. Hoy apelo a los corazones individualmente para que se mantengan firmes en la rectitud. Ustedes no podrán ser engañados si son fieles a Mis mandamientos. Las decisiones malignas, una a una, se presentan como algo bueno, tal como el control de armas, el aborto, el reforzar los efectos de la Suprema Corte agregando más jueces. Todo esto, y más por venir, está en línea con una agenda atea."

"Una vez que la Nación esté arruinada por un debilitamiento de la moral, el anticristo intervendrá como un 'salvador'. Prepárense en sus corazones y no renuncien a la verdad. Aférrense a su fe en Mí como su Dios omnipotente."

Lean 2ª Tesalonicenses 2:9-12




La venida del Impío será provocada por la acción de Satanás y está acompañada de toda clase de demostraciones de poder, de signos y falsos milagros, y de toda clase de engaños perversos, destinados a los que se pierden por no haber amado la verdad que los podía salvar. Por eso, Dios les envía un poder engañoso que les hace creer en la mentira, a fin de que sean condenados todos los que se negaron a creer en la verdad y se complacieron en el mal.
RE: Latest messages are at Holy Love Ministries (www.holylove.org) and Ministerios del Amor Santo (www.amorsanto.com)