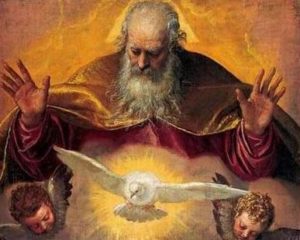 January 7, 2021
Once again, I (Maureen) see a Great Flame that I have come to know as the Heart of God the Father. He says: "It is obvious that there has been foreign interference in the election process in your country in this most recent presidential election.* Your nation will never be the same again. All of this outside influence, however, must not change My relationship with each heart. I am still your Eternal Father. No power on earth can change that. In My Heart is your freedom and security – your right to choose and most of all your right to pray. Therefore, do not feel depressed or oppressed. Be at peace, knowing no outside forces can make you surrender your love for Me."

"Allow Me dominion over your hearts and you will be free always. Allow My Commandments to govern your hearts and your lives. This is the way to true and everlasting peace. This is the way to allow Truth the victory in your hearts and your lives. This is the victory that counts throughout all eternity."

Read Psalm 4:8+

In peace I will both lie down and sleep; for you alone, O LORD, make me dwell in safety.

+ Scripture verses asked to be read by God the Father.

 

7 de Enero del 2021
Nuevamente veo una gran llama que he llegado a reconocer como el Corazón de Dios Padre. Dice: "Es evidente que ha habido interferencia extranjera en el proceso electoral de su País en estas recientes elecciones para presidente. Su Nación nunca volverá a ser la misma. Sin embargo, toda esta influencia externa no debe cambiar la relación que tengo con cada corazón. Yo sigo siendo su Padre Eterno. Ningún poder en la tierra puede cambiar esto. En Mi Corazón está su libertad y seguridad, su derecho a elegir y, sobre todo, su derecho a rezar. Por lo tanto, no se sientan deprimidos ni oprimidos. Estén en paz, sabiendo que ninguna fuerza externa puede hacer que renuncien a su amor por Mí."

"Permítanme tener el dominio de sus corazones, y siempre serán libres. Dejen que Mis mandamientos gobiernen sus corazones y sus vidas. Este es el camino hacia la paz auténtica y duradera. Esta es la manera de permitir que la verdad triunfe en sus corazones y en sus vidas. Esta es la victoria que cuenta por toda la eternidad."

Lean Salmo 4:9




Me acuesto en paz y en seguida me duermo, porque sólo tú, Señor, aseguras mi descanso.
RE: Latest messages are at Holy Love Ministries and Ministerios del Amor Santo