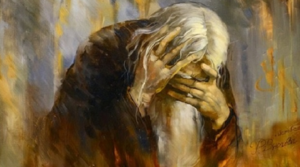 January 25, 2021
Once again, I (Maureen) see a Great Flame that I have come to know as the Heart of God the Father. He says: "In order for this nation* as a whole to repent, each soul needs to be convicted of where he stands before Me. This is the salvific Truth that is needed to save this nation. This is the Truth that is needed for the heart of this nation to embrace repentance. Each soul needs to open to this Truth – a Truth not found in ambition or disordered self-love."

"Begin by forgiving everyone. Hold no grudges in your hearts. A grudge is a form of self-love, not of righteousness. Be willing to allow Me to take dominion over your hearts, your lives and the world around you. Do not embrace any achievement as something you did on your own, but always give thanks to My Provision. Trust in My Will for you – which always protects and provides whatever you need towards your own salvation."

"Repentance needs to take root in each heart in order for the heart of the world to repent."

Read Hebrews 3:12-13+

Take care, brethren, lest there be in any of you an evil, unbelieving heart, leading you to fall away from the living God. But exhort one another every day, as long as it is called "today," that none of you may be hardened by the deceitfulness of sin.

Read Psalm 1:1-6+

The Two Ways

1 Blessed is the man who walks not in the counsel of the wicked, nor stands in the way of sinners, nor sits in the seat of scoffers;

2 but his delight is in the law of the LORD, and on his law he meditates day and night.

3 He is like a tree planted by streams of water, that yields its fruit in its season, and its leaf does not wither. In all that he does, he prospers.

4 The wicked are not so, but are like chaff which the wind drives away.

5 Therefore the wicked will not stand in the judgment, nor sinners in the congregation of the righteous;

6 for the LORD knows the way of the righteous, but the way of the wicked will perish.

+ Scripture verses asked to be read by God the Father.

 

25 de Enero del 2021
Nuevamente veo una gran llama que he llegado a reconocer como el Corazón de Dios Padre. Dice: "Para que esta Nación se arrepienta en su totalidad, es necesario que cada alma esté convencida del lugar en el que se encuentra ante Mí. Esta es la verdad salvífica que se necesita para salvar a esta Nación. Esta es la verdad que se necesita para que el corazón de esta Nación acepte arrepentirse. Cada alma necesita abrirse a esta verdad; una verdad que no se encuentra en la ambición ni en el amor propio desordenado."

"Empiecen perdonando a todos. No tengan resentimientos en el corazón. Un resentimiento es una forma de amor propio, no de rectitud. Estén dispuestos a dejarme tomar el dominio de sus corazones, de sus vidas y del mundo a su alrededor. No acepten ningún logro como algo que hicieron por su cuenta, sino siempre agradezcan a Mi Provisión. Confíen en Mi Voluntad para ustedes, la cual siempre protege y provee todo lo que ustedes necesitan para su salvación."

"Es necesario que el arrepentimiento se arraigue en cada corazón a fin de que el corazón del mundo se arrepienta."

Lean Hebreos 3:12-13
Tengan cuidado, hermanos, no sea que alguno de ustedes tenga un corazón tan malo que se aparte del Dios viviente por su incredulidad. Antes bien, anímense mutuamente cada día mientras dure este hoy, a fin de que nadie se endurezca, seducido por el pecado.

Salmo 1:1-6
¡Feliz el hombre que no sigue el consejo de los malvados, ni se detiene en el camino de los pecadores, ni se sienta en la reunión de los impíos, sino que se complace en la ley del Señor y la medita de día y de noche! Él es como un árbol plantado al borde de las aguas, que produce fruto a su debido tiempo, y cuyas hojas nunca se marchitan: todo lo que haga le saldrá bien. No sucede así con los malvados: ellos son como paja que se lleva el viento. Por eso, no triunfarán los malvados en el juicio, ni los pecadores en la asamblea de los justos; porque el Señor cuida el camino de los justos, pero el camino de los malvados termina mal.
RE: Latest messages are at Holy Love Ministries and Ministerios del Amor Santo