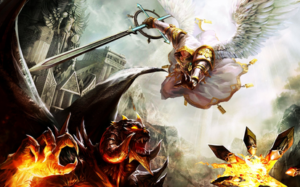 May 4, 2021
Once again, I (Maureen) see a Great Flame that I have come to know as the Heart of God the Father. He says: "Please realize, My children, the greatest battle which is being waged is not peculiar to any nation or circumstance in the world. The most important battle is being waged in hearts. It is the battle between good and evil. When this ongoing conflict is not recognized, it is easy for evil to win out. More and more these days, sin and evil go unnoticed in everyday decisions. This is how Satan influences decisions and gains power in the world.""In this country* alone, evil has won over hearts by posing as good. Bad choices are imposed clothed as law. Abortion and immigration are examples of this. The uninformed citizen does not see the difference these laws make in My Eyes. They do not notice the subtle changes that are playing against My favor."

"I wish to be close to every soul, and therefore, a partner in every decision. I desire each soul loves and respects Me. Then, and only then, will his actions be as reflections of obedience to My Commandments. Then, and only then, will each nation prosper in My Divine Will."

Read 2 Corinthians 5:10+

For we must all appear before the judgment seat of Christ, so that each one may receive good or evil, according to what he has done in the body.

+ Scripture verses asked to be read by God the Father.

 

4 de Mayo del 2021
Nuevamente veo una gran llama que he llegado a reconocer como el Corazón de Dios Padre. Dice: "Hijos Míos, les pido que se den cuenta de que la gran batalla que se está librando no es propia de alguna nación o circunstancia en el mundo. La batalla más importante se está librando en los corazones. Se trata de la batalla entre el bien y el mal. Cuando este conflicto en curso no se reconoce, es fácil que gane el mal. En la actualidad, es cada vez más frecuente que el pecado y el mal pasen desapercibidos en las decisiones cotidianas. Así es como Satanás influye en las decisiones y adquiere poder en el mundo.""Tan solo en este País, el mal se ha ganado corazones al hacerse pasar por algo bueno. Se imponen malas decisiones como leyes. El aborto y la inmigración son ejemplo de esto. El ciudadano desinformado no ve la diferencia que hacen estas leyes ante Mis Ojos; no advierten los cambios sutiles que operan contra Mi favor."

"Es Mi deseo estar cerca de cada alma y, por lo tanto, deseo ser parte de cada decisión. Quiero que cada alma me ame y me respete. Entonces, y solo entonces, sus acciones serán como reflejos de la obediencia a Mis mandamientos. Entonces, y solo entonces, cada nación prosperará en Mi Divina Voluntad."

Lean 2ª Corintios 5:10




Porque todos debemos comparecer ante el tribunal de Cristo, para que cada uno reciba, de acuerdo con sus obras buenas o malas, lo que mereció durante su vida mortal.
RE: Latest messages are at Holy Love Ministries (www.holylove.org) and Ministerios del Amor Santo (www.amorsanto.com)