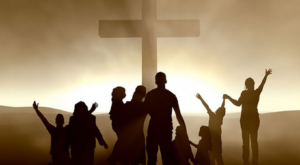 May 31, 2021
Once again, I (Maureen) see a Great Flame that I have come to know as the Heart of God the Father. He says: "Today, as your country* commemorates the lives of your deceased, I invite you to realize that those who loved Me in their earthly existence are alive in their afterlife. It is always best to pray for the departed souls, since you are not privy to their position in Heaven, Purgatory or Hell. It is safest to presume the departed are in Purgatory and still in need of your prayers. You cannot offer too many prayers for the dead. If the ones you pray for are in Heaven, all your prayers for them will not be wasted, but go to some other needy soul."

"There are millions of souls in Purgatory that no one prays for. Some are there due to lack of belief in Purgatory. Others are there because of false presumptions as to their final destination – either Heaven or Hell. Consequently, no prayer offered for the poor souls is useless. Disbelief in Purgatory does not negate its existence."

Read 1 Thessalonians 5:23+

May the God of peace himself sanctify you wholly; and may your spirit and soul and body be kept sound and blameless at the coming of our Lord Jesus Christ.

+ Scripture verses asked to be read by God the Father.

 

31 de Mayo del 2021
Nuevamente veo una gran llama que he llegado a reconocer como el Corazón de Dios Padre. Dice: "Hoy que su País conmemora las vidas de sus difuntos, los invito a darse cuenta de que quienes me amaron en su existencia terrenal están vivos en la otra vida. Lo mejor es rezar siempre por las almas que ya partieron, ya que ustedes no saben si están en el Cielo, en el Purgatorio o en el Infierno. Es más seguro pensar que están en el Purgatorio y que todavía necesitan sus oraciones. No podrán ser demasiadas las oraciones que ofrezcan por los difuntos. Si aquellos por quienes rezan están en el Cielo, todas sus oraciones por ellos no se desperdician, sino que se van a otra alma necesitada."

"Hay millones de almas en el Purgatorio por las que nadie reza. Algunas están ahí por no haber creído en el Purgatorio. Hay otras almas que están ahí debido a falsas suposiciones de su destino final; sea el Cielo o el Infierno. Por lo tanto, ninguna oración ofrecida por las pobres almas es inútil. La incredulidad en el Purgatorio no niega su existencia."

Lean 1ª Tesalonicenses 5:23




Que el Dios de la paz los santifique plenamente, para que ustedes se conserven irreprochables en todo su ser –espíritu, alma y cuerpo– hasta la Venida de nuestro Señor Jesucristo.
RE: Latest messages are at Holy Love Ministries (www.holylove.org) and Ministerios del Amor Santo (www.amorsanto.com)